---
---
BACK TO

HOME PAGE CONTACT

E Mail Brian
Commercial Land : Hotels : Pensions And Businesses For Sale
Greece : Mainland And Islands : Page 1
For Page 2

Here : For Page 3

Here : For Page 4

Here

Scroll Down To See More Property.

---
Have Your Own Business In The Sun : Ag. Markos : Corfu
15 Studio Apartments located by the sea in Ag Markos, 300 meters from Ipsos beach.
Small complex of 15 Studios-Apartments in Aghios Marcos, only 300 meters from the beach of Ipsos. All the Studios are fully equipped with kitchenette, bath, and air conditioning. The complex has also a swimming pool (18x8,5), pool bar and a restaurant.
Price : 390,000 Euros : O.N.O. Terrific opportunity to own a very nice business in Corfu.Code : CORFU BUS/TM/T41
---
A Hotel With Swimming Pool and only 250 Metres From The Beach : Gouvia : Corfu
A Hotel offering 26 double rooms ( some of which can be triples ) and all of which have T.V. Air conditioning : Bathroom : Fridge, and big Verandas or Balconies.
Facilities at the Hotel include an indoor bar, snack bar Cafe Bar with satellite T.V. and pool bar. The pool bar serves food and drink all day. The restaurant serves breakfast in the traditional style.
The Hotel is located only 250 metres from the beach and 250 metres from the centre of Gouvia Resort. There is also a big clean swimming pool and a spacious garden.
Price : 580,000 Euros Or Near Offer Code : CORFU BUS/TM/T49
---
An Established 6 Studio Letting Business : Askeli : Poros Island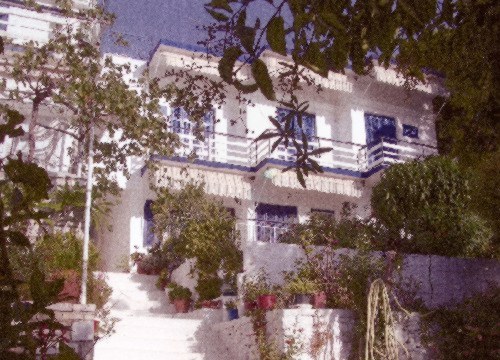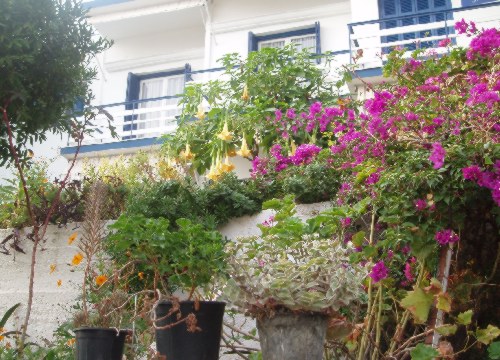 Consisting of 6 sea side studios each with kitchen and bathrooms, the property is to be sold furnished and ready to go.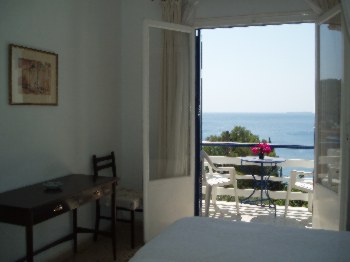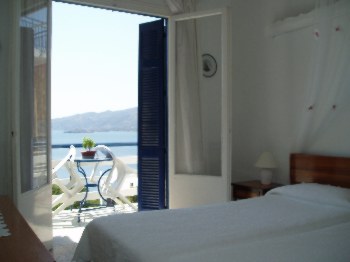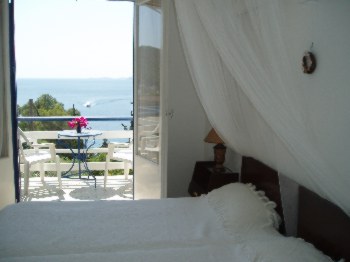 It has been owned by the same family ( English ) for the last 20 years, the owners now wish to retire. They will assist, in training, and all changeover details to any new owners. Repeat bookings annually and passing trade with Americans and Scandinavians particularly. If you buy now at this special price you can start trading in the New Year.
Price Slashed To : 235,000 Euros (£195,000) REDUCED FOR QUICK SALE Code : POROS BUS BT/010

---
4 x 1 Bedroom Apartments In Coastal Resort : Stoupa : Mani
These 4 x 1 bed roomed apartment are only a short walk to Pantazi beach and local tavernas .
An ideal business for someone wishing to live in the upper apartment and rent the lower apartments . The property has a nice walled garden and views of the coastline and mountains. The property is in need of some minor repairs and decorating .

4 x 1 Bedroom Apartments : Balconies : Gardens : Kitchen : Verandas : Lounge : Shower Rooms : Coastal Resort : Walking to the Beach
Prices : 206,000 Euros Code : MANI YE/402
---
A Business Venture For Sale With 4 Villas Set Around a Swimming Pool : Stoupa : Mani
This beautiful property could be just what you are looking for, the property consist of a 120 m² house which the present owners reside in and 4 Villa Apartments. The property is located in Stoupa in the southern Peloponnese which is one of the most stunning areas of Greece in Messinian Mani approximately 40 kilometers from the nearest airport at Kalamata. The area is known for its beaches of golden sands, crystal blue sea and the spectacular backdrop of the Taygetos Mountains it is a popular summer holiday resort, and in the cooler winter months is a great base for walking, cycling and exploring the wider area by car.
These villas are situated in an idyllic location in an elevated position, nestled among olive groves with wonderful sea views, yet are within walking distance of Stoupa village and its two beautiful sandy beaches, Kalogria Beach can be reached within a 10 minute walk, while the main beach area of Stoupa can be reached in a 20 minute. Both beaches have as a good selection of shops, tavernas and bars. There are also two well-stocked supermarkets nearby
The main house is 190 m² which is used as the family home, it consists of a large lounge with a fireplace, fully fitted kitchen, 3 bedrooms and a bathroom. There is a private courtyard with a seating area, lawned garden and access to the swimming pool.
There are 2 x 2 storey 70 m² villas, on the upper level there is a double bedroom, with en-suite shower room; fitted wardrobes French doors that lead out onto a large sun terrace with table, chairs, sun loungers and parasols. From the terrace there are stunning views of the Messinian coastline and the Taygetos Mountains to the rear. Marble Steps take you down to the lower level of the villa where there is a lounge, fully fitted kitchen dining area and toilet, air conditioning and satellite TV. The Villas are surrounded by well-kept gardens; they each have their own private balcony or terrace, with tables and chairs for al fresco dining and sun loungers for relaxation. From the terraces there are stunning views of the Messinian coastline and the Taygetos Mountains to the rear. Stone steps lead down to the swimming pool with sun loungers and umbrellas
The 2 x single storey 30 m² villas consist of a lounge, dining area, kitchen, a double bedroom with fitted wardrobes and a shower room. There is air conditioning and satellite TV. The Villas are surrounded by well-kept gardens; they each have their own private balcony or terrace, with tables and chairs for al fresco dining and sun loungers for relaxation. From the terrace there are stunning views of the Messinian coastline and the Taygetos Mountains to the rear. Stone steps lead down to the swimming pool with sun loungers and umbrellas.
Price : 750,000 Euros Could be a very profitable enterprise Code : MANI YE/677
---
A Superb Rental Business Fully Set Up For Sale : Troulos : Skiathos
These Apartments for rent are situated in the area called Troulos on Skiathos Island and close to the main route to the town. They are only 250 metres from Troulos Beach. This well maintained complex sits in an area of 4500 square metres.
They are set in beautiful gardens and offer peace and relaxation in a superb location and are a perfect small business opportunity
They comprise seven studios at 30 square metres each and two apartments of 50 square metres each, for rent, and there is also a reception area of 35 square metres
Price : An Amazing Special Offer of 400,000 Euro's Code : SKIATHOS ZK / HOLPROP

---
An On Going Rental Business Fully Set Up And Successful For Sale : Old Skala : Kefalonia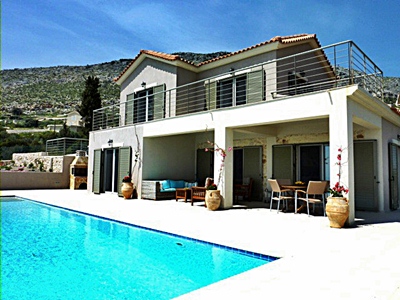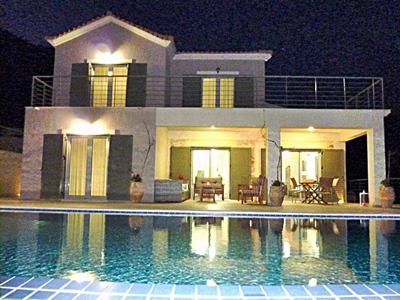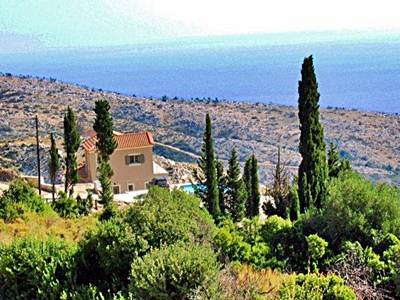 Built high up overlooking Skala and the sea, with fabulous views, it is within walking distance to a taverna, bar and minimart (half a mile) and a free tennis court even closer. Only 2 miles away is the big family friendly resort of Skala with sandy beaches, lots of shops, tavernas, supermarkets, chemists, and doctors, etc.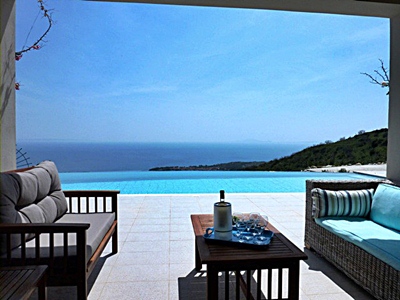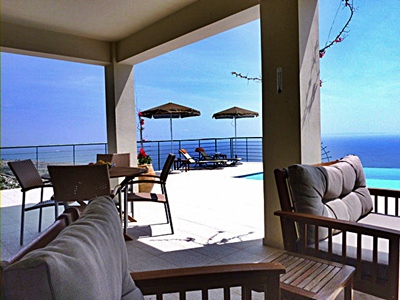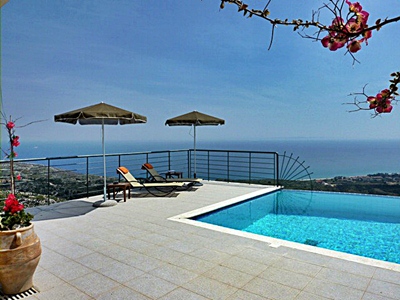 This lovely villa comes with full E.O.T. licenses to sleep up to 8 people and has three en suite bedrooms, four bathrooms, four toilets and a beautifully fitted kitchen, and air conditioning and heating and comes with a large covered terrace with dining and seating area. Every bedroom has a sea view, balcony and terrace.
Excellent holiday accommodation with a four year track record of 100% occupancy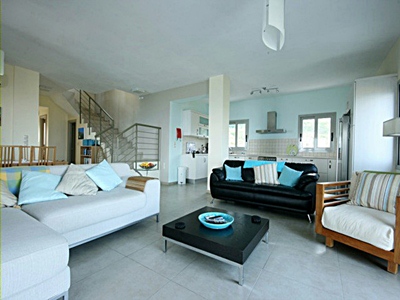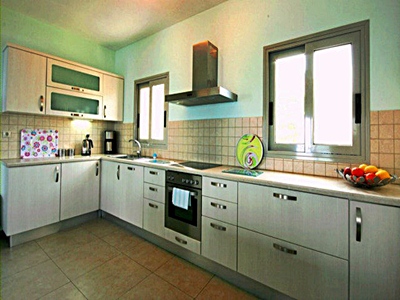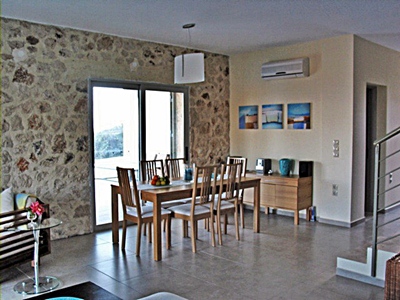 The Villa is set in a 4200 square metre plot and has a gated, fenced and landscaped garden with over 1 acre of land and about 20 olive trees and 20 fruit trees, and there is a large infinity swimming pool 13 X 5 metres

with integrated Jacuzzi.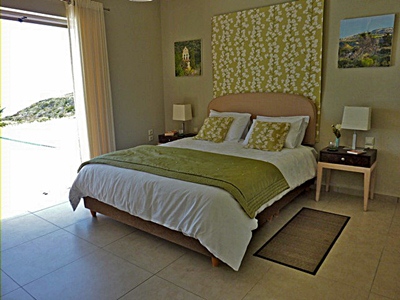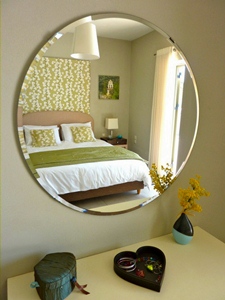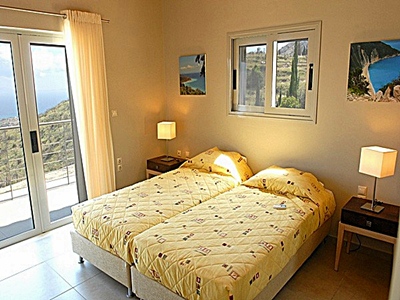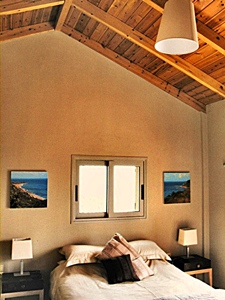 8% Rental returns achievable. The villa is to be sold as you see it above, fully furnished and equipped and now an ongoing business.
For more business figures a Word Document Is Available Please E Mail Brian, for KEFALONIA BUS/RIP/010

E Mail Brian.
Price : 525,000 Euro's Or Near Offer. Code : KEFALONIA BUS/RIP/010

---
A Four Apartment Building Providing Income from Letting/Olive Oil/Vinyard : Amoudi : Zakynthos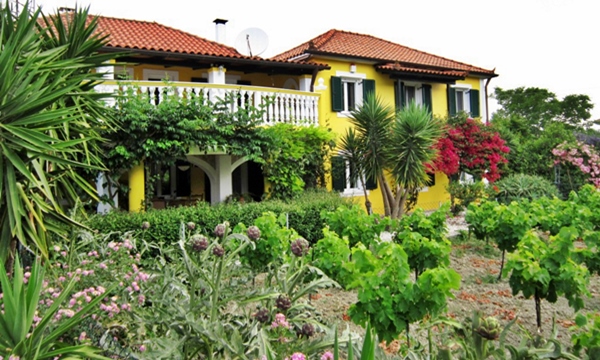 This unusual property 300 metres in size consists of 4 independent studio apartments with traditional style outhouse areas, sits on a large cultivated piece of land measuring 3,200 sq.metre.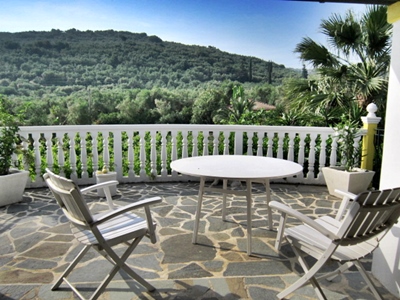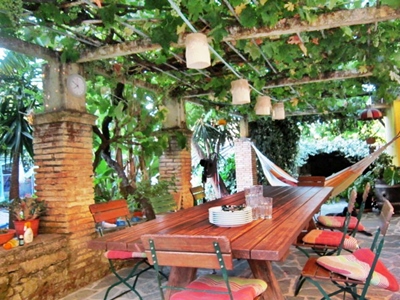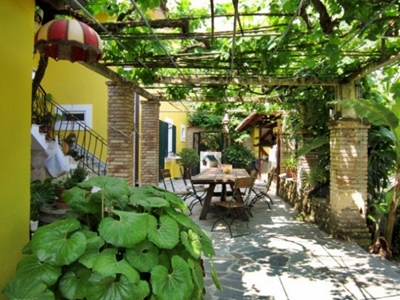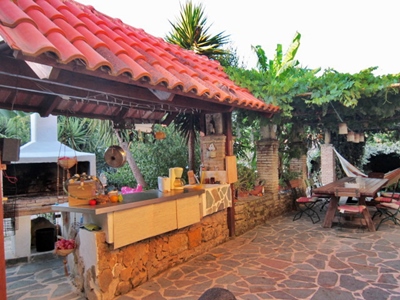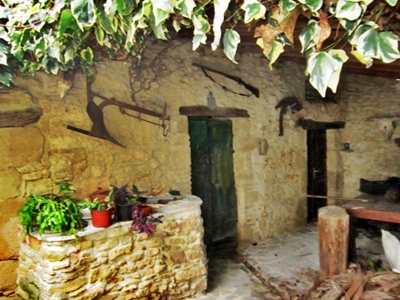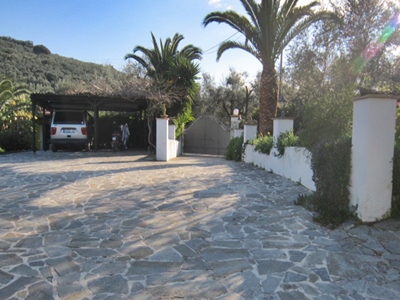 The property due to the design can be rented out during the summer season providing an income of approx, 25,000 Euro together with also the land producing each year from the olive trees, 100 litres of olive oil and 500 litres of wine from the vineyard.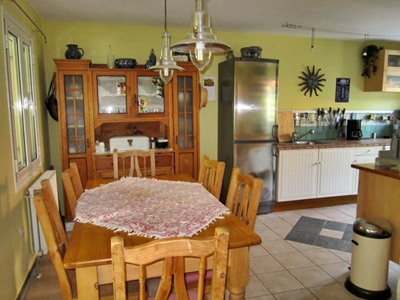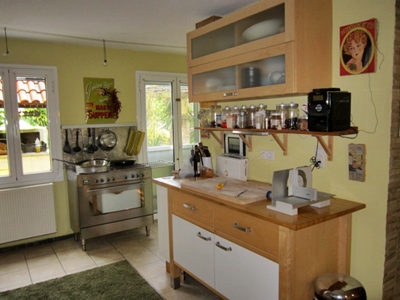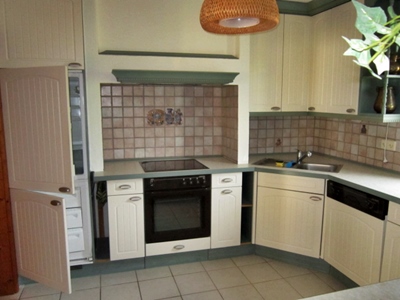 Only 800m from the lovely sandy beach & shores of Amoudi & 3km/4 km from Alykanas & Alykes respectively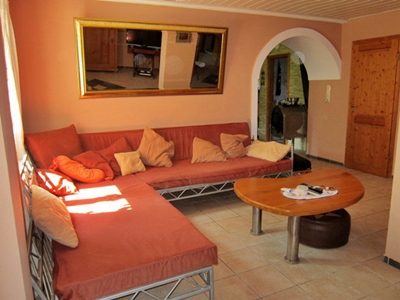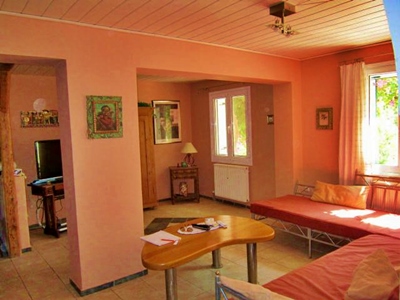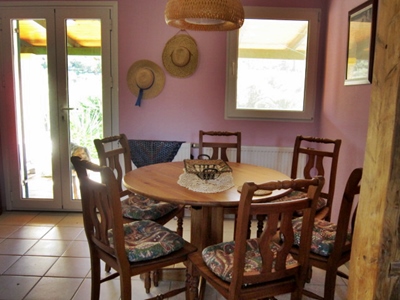 Send For More Details By Word Document Ask For Code : ZANTE LG/ZC/RS1404 : Ready to view now. To visit and view E Mail Brian.

E Mail Brian.
Price 390,000 Euros Or Offer Code : ZANTE LG/ZC/RS1404

---
A 5 Bedroom Villa With 8 Furnished Studios : Benitses : Corfu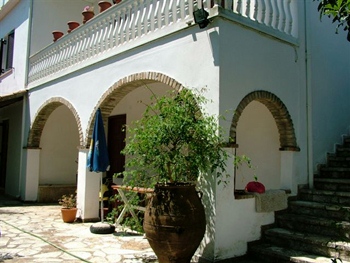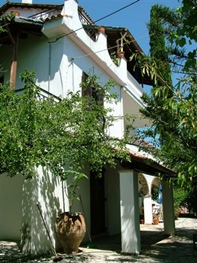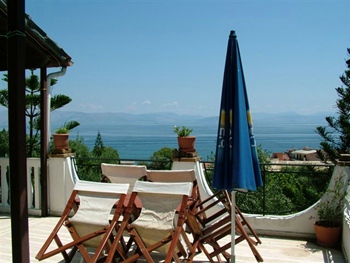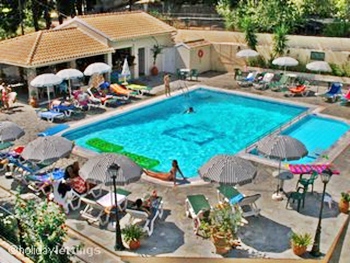 These apartments are superb letting apartments are in Benitses Corfu with a great view of the sea. If you intend to rent the studios (they comprise,16 min , 21 max beds) travel agencies offer contracts at Benitses of 1200 Euro per bed. Others Rent apartments in the area using the net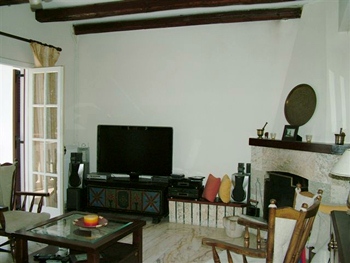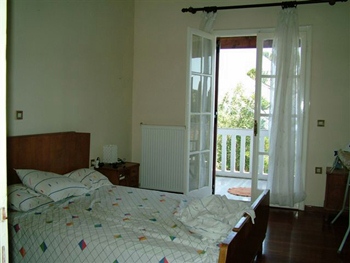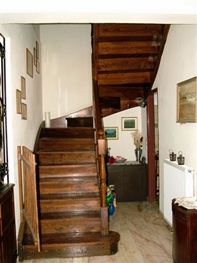 The Villa main apartment has 5 bedrooms, 4 bathrooms, a living room, and an office, with an owners garage.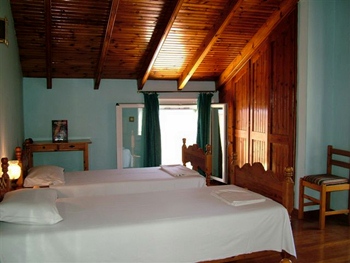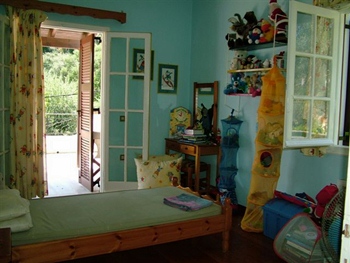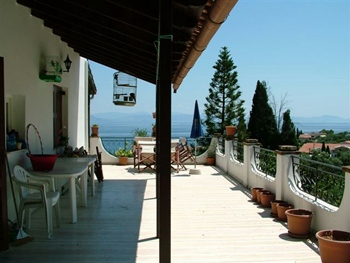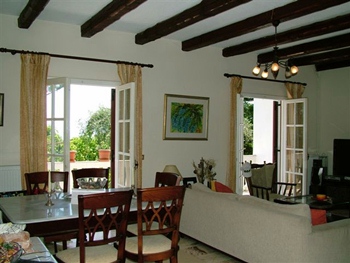 It also has a superb 200 sq metre veranda with 8 furnished studios, in a plot of 2700 sq metres of land with great views of the sea.
This house is in Benitses overlooking the village. It is within 5 minutes walking distance from the centre of the village and the new marina of Benitses. There is parking space for 50 cars, the parking space is so big that it is also used by the next door apartments, and in return the owner gives free access to all the guests to the pool next to the house. There is a licence for the apartments issued by the Greek ministry Of Tourism. It takes about 2 days to turn it to the new owner or a different name.
Price : REDUCED TO 800,000 Euros Code : CORFU AS/010

---
A Successful Holiday Let Villa : Monostiraki : Crete
This charming, easy to maintain, villa is situated in the idyllic village of Monastiraki in Eastern Crete. Monastiraki is a small settlement nestling at the base of the mountains with spectacular views at the entrance to the Ha canyon. With a handful of houses and a couple of local tavernas, good Cretan food is only a walk away. The coastal village of Pachia Ammos is within a 5 minutes drive, whilst the south coast town of Ierapetra is within a 10 minute drive. : Spectacular Views : Peaceful retreat : The land in total is 1100sq m : The Villa is 95 sq m : Established garden and the location is ideal for village life : 5m by 8m pool with unrestricted views to the bay at Pachia Ammos : Furniture is included : All electrical goods included are only 12 months old : The villa has a full EOT license and is fitted with all fire safety equipment and emergency lighting.
The villa is looked after by a local family who run a taverna in the village. The villa is a successful holiday let, advertised on Owners Direct.
Gross takings average £12,000 sterling each year, last year was a good year and grossed £15,000
Reluctant Sale Due To Changed Circumstances
Price : Was Reduced To 260,000 Euros. REDUCED YET AGAIN TO 195,000 Euros Code : CRETE KA/010

---
A Three Stone Villa Investment With Views To Vlicho Bay And Nidri : Lefkas
An investment and a tourist rental opportunity it is projected to realize a rental income of between 50,000 and 60,000 Euros per summer based on 2009 prices paid in this area by holiday companies contracting villas for the whole season.
ASPRODAKI VILLAS is an ideal investment opportunity. Consisting of 3 houses situated on over 5,000 square metres of land. The development has many mature olive and fruit trees and is surrounded by undeveloped farm land. The Villas are perfectly situated for holiday letting or long stay living, close enough to the busy bay side village of Nidri where there are numerous Bars, Restaurants and an active nightlife. Within easy reach of beautiful beaches with crystal clear waters. The Villas are situated near to a main bus route ( 200 Metres ) The development provides a peaceful rural setting adjacent to an un-spoilt traditional Greek village
Lefkada Island enjoys the advantage of being connected to mainland Greece by a swing bridge and being only 40 minutes by road to Preveza Airport. Preveza Airport caters for flights from all over Europe in the summer months and internal flights to and from Athens all year round. With good road connections to Athens and Thessaloniki, Lefkada is an ideal holiday destination for both European and of course Greek tourists. The beautiful beaches of Dessimi and Micros Gaillos are just 8mins away by car or bus, as is the centre of Nidri with plentiful shops, restaurants, cafes, tour boats etc. Ferries to other Ionion Islands like Ithaki and Kefalonia leave daily from Nidri.

A Complete Description Word Document Is Available Please E Mail Brian.

E Mail Brian.
Price : Offers Invited in the region of 525,000 Euros Code : LEFKAS CS/010
---
A Two Villa Holiday Rental Business : Vasilikos : Zakynthos
Standing side by side at the top of the hill, in the middle of an olive grove, two stone villas -- "Korelia" and "Markella" -- stand side by side overlooking the Ionion. Built in the traditional Zakynthian style, these villas are made of local stone and contain handmade furniture, carefully crafted by local artisans. These lovely homes have mature gardens, affording privacy from each other. Both Korelia and Markella have 3 bedrooms and 2 full baths, as well as fully equipped kitchens, including dishwashers and washing machines.
Both Korelia and Markella have 3 bedrooms and 2 full baths, as well as fully equipped kitchens, including dishwashers and washing machines. Both villas have private pools and come with a grove of 85 olive trees. The views are unsurpassed. Already popular vacation rentals, Markella comes fitted to have a fireplace installed, should you like to live in one year round and use the other as a rental
Located on Zyknthos Island, Greece, in serene Vasilikos, which has several restaurants, a lovely coffee house and market. A short drive from beautiful beaches, night life and local colour should you want to leave the mountain.
Price : 665,000 Euro's O.N.O. Code : ZANTE BUS/TM010
---
Excellent Home And Income In The Heart Of Skyros Town. : Skyros Chora
The owners' accommodation consists of a 2 double bedroom apartment in Skyrian fashion, with a modern kitchen,
modern bathroom/WC. There is a large lounge/dining room with a traditional fireplace. Television connection, and air conditioning.
The balcony has views to the mountains, the valley, sea and sunset off one of the bedrooms. Both bedrooms have large fitted wardrobes. There is a front sitting out area outside of the main door of the building. There is the possibility to enhance flat roof area to an additional terrace.
At the rear of the property, there is a one bedroom apartment ideal for holiday or permanent letting. The income during the summer months is between 50/60 euros per night, and consists of twin beds, TV, shower room, small lounge/kitchenette with fridge/freezer, hob and sink unit. There is an outside terrace overlooking the valley and mountains.
At the side of the property is a further one bed apartment, currently let at an income of 500 euros a month, but this could be for holiday letting also. It has one bed, lounge, front terrace, kitchenette and shower room. The House is only a 10 mins walk from the main beaches of Molos and Magazia and a few minutes from the centre of the Chora.
Price : 340,000 Euro's Negotiable Code : SKYROS SH/52
---
An Apartment Building For Sale With 5 Letable High Class Apartments : Almyrida : Crete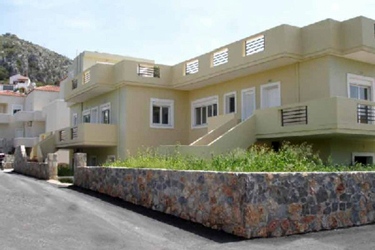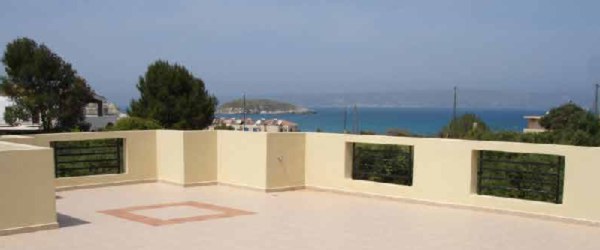 This property is located a short walking distance from the beach of Almyrida and amenities. The property consists of two, two bedroom apartments on the ground floor, three apartments on the semi basement level, and a large tiled roof terrace with views of the beach, the Island of Almyrida, and the mountains.
Ground Floor: 140m2 Apartment A) consists of an open plan kitchen living area, two bedrooms with wardrobes, and a bathroom. Apartment B) consists of an open plan kitchen living area, two bedrooms with wardrobes, a bathroom, and an extra room with a kitchenette and access to the roof terrace.
Semi Basement Level: 140 m2 This level includes three unfinished apartments. Two of the apartments include one bedroom, a bathroom and an open kitchen living area. One of the apartments includes two bedrooms, a bathroom and an open plan kitchen / living area. This level's interior's status is: completed brick laying, first layer of render completed, electric and plumbing installation completed, and the exterior is completed and painted.
Roof Terrace: The roof terrace is approximately 140m2 and has views of the sea and the mountains. Between the property and the sea views there is a plot of land that will be a municipal park according to the urban planning of Almyrida.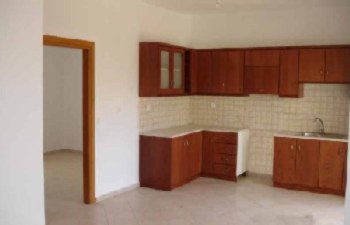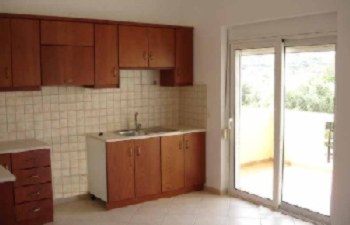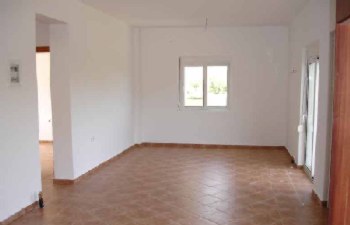 Total Size of Building: 280m2. Plot size: 500m2
This delightful complex is for sale as a commercial proposition. Needs finishing to your taste but this is A Great Opportunity To Live And Work In The Sun.
Price : 310,000 Euros Code : CRETE AL / H40

---
A Two Storey Villa Only Two Minutes Walk To The Beach and Amenities : Kolympari : Crete
With E.O.T Protocol License For Letting
A two storey villa with basement and pool, only a two-minute walk from the beach and amenities. On the ground floor there are two bedrooms and one bathroom. On the first floor there is an open plan kitchen / living area, a guest bathroom and large terraces with views of the sea and the mountains. The sea views are panoramic from Kolympari to the Akrotiri Peninsula. On the basement level there are two more bedrooms with wardrobes, a storage room and a large bathroom. The property is fully insulated, with aluminium framed double glazed windows. The property includes air-conditions and central heating. There is a 30m2 ground level, tiled swimming pool, and tiles have been laid in the areas surrounding the house which makes the exterior of the property easy to maintain.
The property has a protocol number for an E.O.T. license and the owners are letting out at the moment for short term rentals. The property has made Euro 10.000 in 2009 from the bookings of the season. The property is for sale with all the furniture and the electric appliances.

Price : 255,000 Euros Code : CRETE AL / H23
---
Three Beach Resort Hotels : Santorini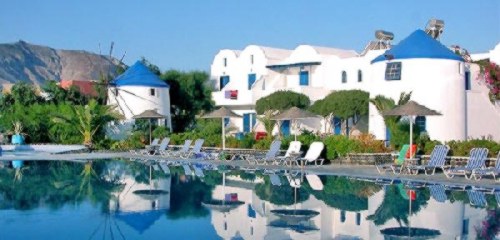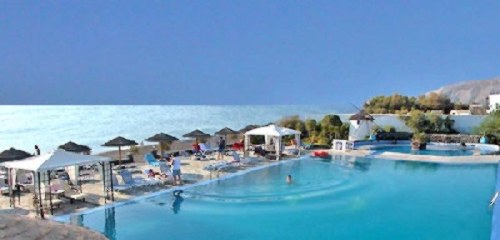 At the southeast part of the island, at a beach resort with an impressive long and inviting black sandy beach, characterized by an enormous rock called Mesa Vouno that rises from the sea, is this Investment opportunity for sale - 2 hotel properties and 2 land properties. The properties for sale are in ownership of an A.E. company (company limited by shares); both of the hotels work from April to October and the reported income is 2.200.000Euros (2007). For 2009 contracts with several European Tour Operators are already in place.


In addition, there are 12.000m² of land available for the construction of a new 5 star hotel, with 55 rooms, which is due for construction start mid of October 2008 (expected completion in 2010). This projected construction will include a laundry building, equipped with the latest technology, and capable to handle the load of all three hotels. The other plot of land is 1.100m² and is currently used for 10 own rental cars.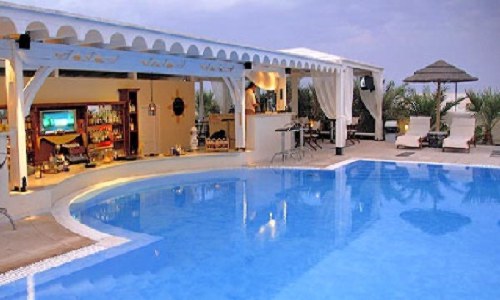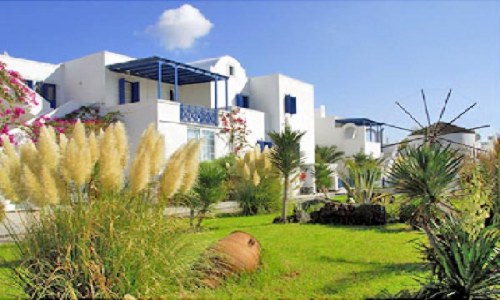 The Beach Hotel is built on 8.500m² at the beachfront and consists of 74 rooms composed on seaside suites, bungalows, and one-two-three-bedrooms rooms 170 beds : 1 single family home for the operator : 8 rooms for staff : A large swimming pool (24 x 12m) : Children's pool : 2 bars (1 central, 1 pool bar) : Restaurant with a capacity of 250 covers : Sauna : Floodlit Tennis Court (hard) : Basketball Court (hard) : Outdoor Playground
The Royal Hotel is built on 6.500m², just 250m from the sea, and consists of 66 rooms : 145 beds : Swimming pool (15x10m) : Children's pool : Pool Snack Bar Restaurant with a capacity of 100 : Sauna : Gymnasium : Floodlit Tennis Court (hard) : Basketball Court (hard) : Outdoor Playground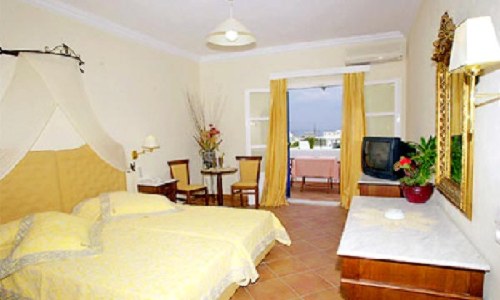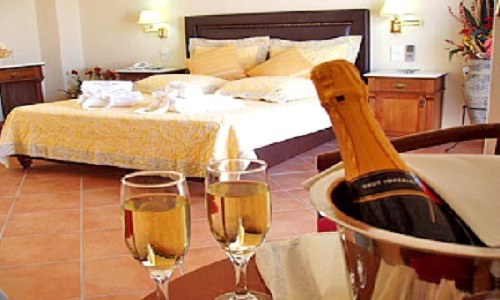 All rooms of both hotels have side sea view or sea view and are fitted with : Balcony or Terrace : Air Conditioning / Heating : Satellite TV : Mini Fridge : Direct Dial Phone : Radio (In TV Set) : Bathroom : Hair Dryer
Price : 20,000,000 Euro's Code : HOTEL IK/GRCY2-103
---
A Six Family Apartment Hotel For Sale : Rethymno : Crete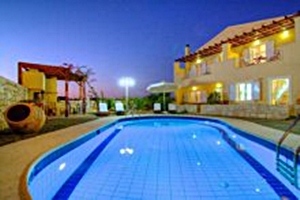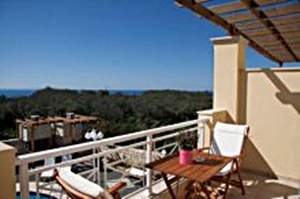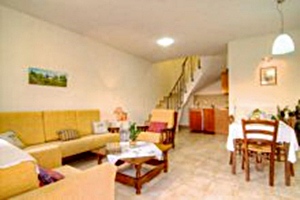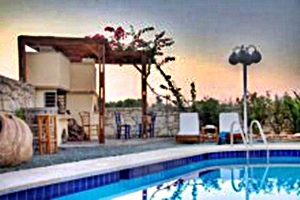 These rental properties are well appointed on a 803m² plot, within an amazing environment of outstanding natural beauty. Away from the hustle and bustle of the city and other tourist areas, this building complex is now up for sale and provides a great business opportunity. Spring, summer, autumn, winter; the complex is at its loyal clientele's service since 2005. The six (6) maisonettes, built just 800m from the sea, aim to offer their guests moments of utter relaxation. The 50m² pool of the complex and the amazing sea and mountain view from all the residences guarantee that this will happen. Each maisonette can accommodate up to 6 people and provides comfortable couches, a double-bed, closets, a dining room table, two bathrooms with showers, a TV set, heating units, air conditioning, ironing equipment, hairdryer, a fully equipped kitchen and a large terrace overlooking the sea. On the first floor visitors find the living room, a kitchen, one bathroom, a dining room and a terrace at the entrance. The second floor includes a bedroom, closets, another bathroom and a balcony.
Being close to beaches, the international airport, a sea port, as well as all kind of amenities, the location of these properties that are for sale, constitute a great combination, for every need possible. As an additional bonus all the villas are coming with an EOT-licence (Greek Tourism Organization) allowing the owner to let it to holiday makers who want to experience an amazing stay in Crete, during any time of the year. In the special selling price are also included the customer base, as well as the website, of which the acquisition value alone reaches the amount of 30.000 Euros. Your dream of owning a highly profitable rental complex building business is now just a step away from fulfilment. This exquisite Resort will offer you a profitable track record, with high occupancy rates. Most of the complex' guests come from France, Italy, Canada, Germany and Russia.
For More Details Or To Visit And View : E Mail Brian.

E Mail Brian.
Price : 460,000 Euros ( Offers Invited ) Code : CRETE BUS IK/12/111
---
An Apartment Complex For Sale Within 200 Metres Of The Sea : Sissi : Crete
A well maintained and well presented purpose built apartment complex situated within a few metres of a pretty local beach.
11 X 3 bed studios : 2 X 4 bed studios : 4 X 3 bed apartments : 8 X 4 bed apartments
The accommodation building is arranged on three levels and all apartments have air conditioning, kitchenettes, shower rooms, radio and telephone facilities and sea or mountain facing balconies. Outside there are attractive landscaped gardens a freshwater pool with underwater lighting, a children's pool and a pool side cafe/snack bar.
Price : 1,500,000 Euro's Code : CRETE CR BUS/SB27
---
A Two Star Hotel In A Premier Resort Town : Elounda : Crete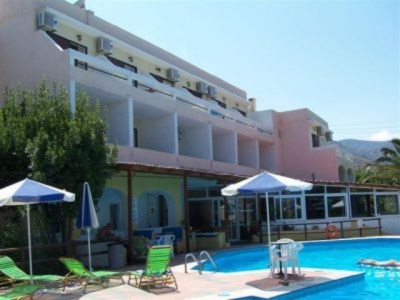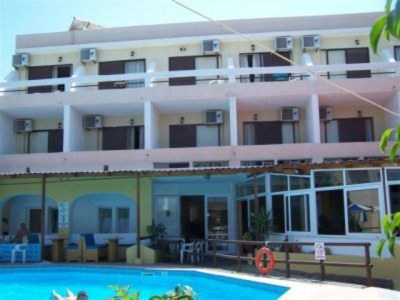 An extremely well located 2 star hotel in the flourishing world renowned luxury resort of Elounda.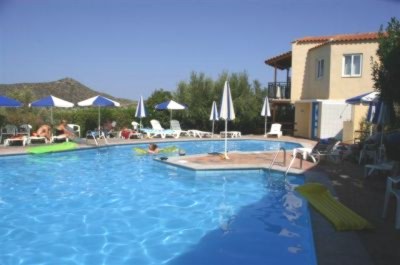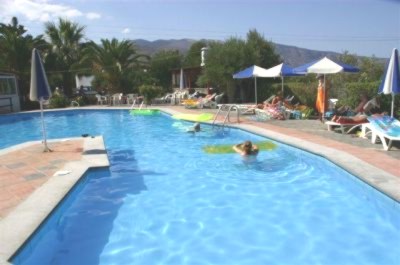 The hotel was built approx 25 years ago, is adjacent to some of the most exclusive hotels in the town and is within a short walk of the beautiful seafront causeway area of Elounda. The main building of the hotel is on 3 levels and accommodates 38 guest rooms. All rooms have private bathrooms, telephone, AC and balconies with either sea or mountain views. In addition there is... Reception area. Bar/snack bar. Restaurant. Swimming pool. Sun bathing terraced area. External seating. Landscaped gardens. Car Parking. The total size of the hotel is 1500m2. The total size of the plot is 3000m2.
Elounda is a large cosmopolitan resort with a great choice of restaurants, tavernas, bars, shops and banks; also some of the best luxury hotels in the world. There is a pretty beach and delightful harbour area. In addition, the former Venetian fortress and leper colony of the island of Spinalonga is close by, most recently written about in the best selling book The Island.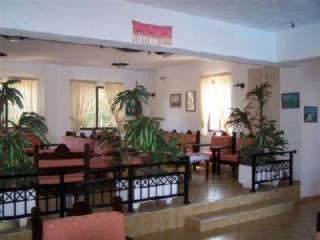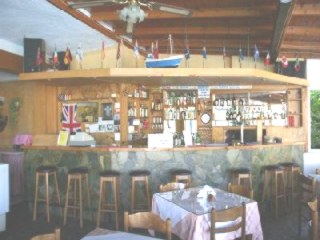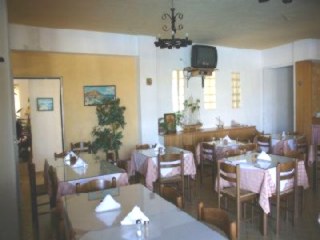 The hotel presently has a contract with both British and Polish holiday tour operators.
Price REDUCED : 1,510,000 Euro's Code : HOTEL CRETECR/EB31

---
A Hotel of 17 Apartments & Studios In A Superb Position : Elounda : Crete

This Hotel consists of buildings ranging from 1987 to 1990 and to 2003 in age. Set only 250 metres from the village and the sea it has spectacular views over the Gulf of Mirabello.
It has full Air conditioning in all rooms and a restaurant ( the restaurant area has been newly renovated outside. ) and bar facility, residents lounge, library with seating area, and a fabulous swimming pool, with a new pool bar.

There is also a pista for Boules, sun terrace with umbrellas, extensive gardens with shrubs, olive, lemon & orange trees and statues of Greek gods
All the rooms have balconies or patios. There is a seperate upstairs apartment of 3 bedrooms and next door a managers 1 bedroom apartment.

This delightful complex is for sale as the present owners wish to wind down. To be sold with all furnishings, fixtures and fittings. Clients are English and Finnish with contracts for this year with a British tour operator. Next season will be signed up in a few days. There are very high number of repeat guests.
This Working Hotel Is A Profitable And Well Established Business With Contracts In Place For This year.

E Mail Brian for a COMPREHENSIVE WORD DOCUMENT about this property.

Price : 1,800,000 Euros ( Negotiable) Code : HOTEL AA/CRETE
---
A 40 Room Hotel 100 metres From The Local Beach : Agios Nikolaos : Crete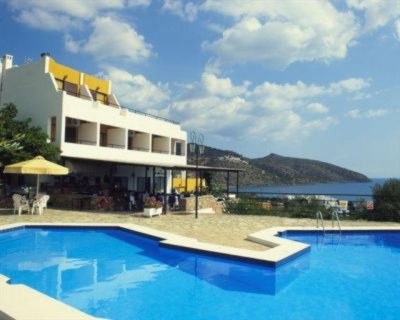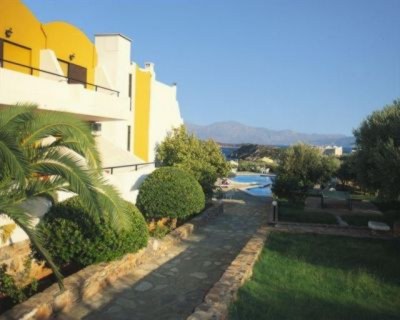 A traditional style hotel situated on the fringes of the resort town of Aghios Nikolaos and enjoying some glorious views down over the Gulf Of Mirabello and across to the Sitia mountains in the distance.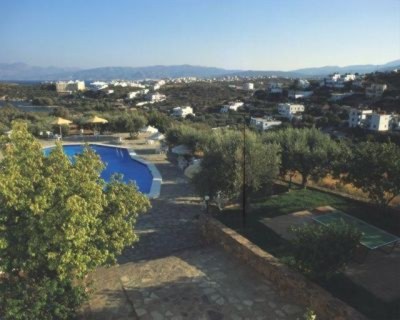 The hotel comprises 40 rooms, 34 of which have direct sea views. Each room has a shower room, AC and heating, balcony or terrace. The facilities of the hotel include... Reception area. Restaurant. Bar. Swimming pool. Pool bar. Sun bathing terraces. Landscaped Gardens. Parking. The hotel is conveniently located within 100m of a local beach. The total size of the property is 1400m2. The total size of the plot is 7500m2.

The beautiful and historic town of Aghios Nikolaos is the capital of the prefecture of Lassithi and is a busy coastal resort which attracts many visitors from around the world. Famous for the spectacular 'bottomless' lake, it has a bustling harbour area, marina, some fantastic local beaches and all the shops and facilities of a major town. The airport at Heraklion is approx 65kms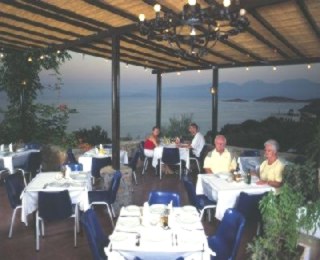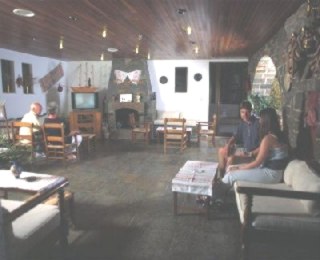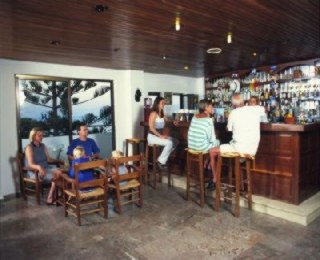 The hotel presently has a contract with both British and Czech holiday tour operators.

Price : 2,990,000 Euro's Code : HOTEL CRETECR/ANB33

---
Hotel For Sale : Rhodes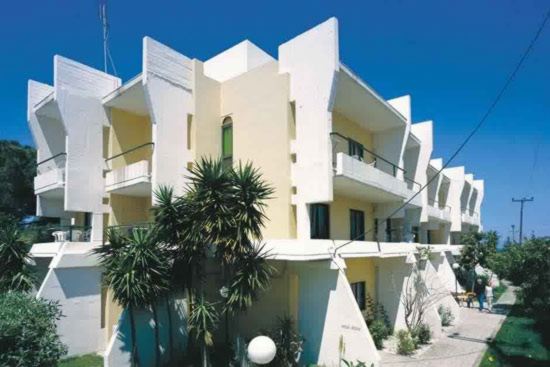 The Hotel is situated in a very privileged position on the Bay of Ixia on the Island of Rhodes only 150 metres from the sea.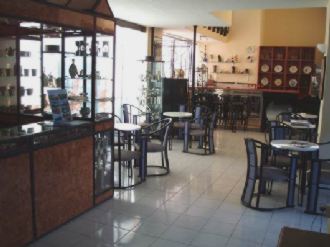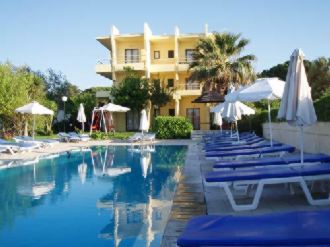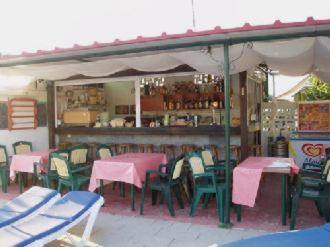 Only 5 klms from the City of Rhodes and 7 kms from the harbour.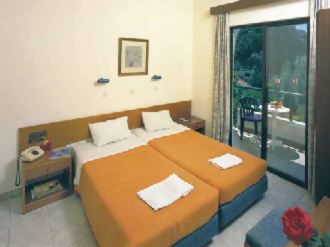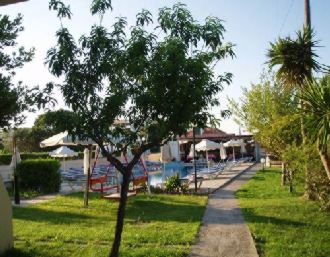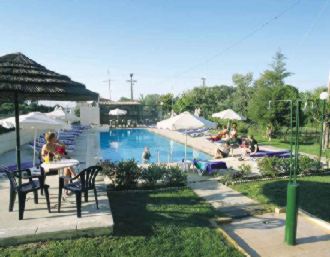 The building consists of 16 two roomed apartments and 4 studios. The apartments have a combined living room / dining room / kitchenette with two extra beds seperate from the 2 bedded room, bathroom with W.C., telephone, TV and balcony.
The studios comprise 2 beds, kitchenette area, bathroom with WC, telephone, TV and balcony.
The upper floors enjoy a sea view and beautiful sunsets. The grounds have well maintained gardens, lawns and a swimming pool.
There is a freshwater swimming pool with sunbathing terrace ( The sun beds are without charge ) and a cocktail Snack - bar beside the swimming pool with weekly Barbeque.
The area has good public transport facilities, the bus stop is 100 metres from the Hotel. Taxis are available day and night. Cars motorbikes and bicycles can be rented at reception, which is manned from 0800 hrs to 22,00 hrs daily, and offers local information and caters for Arrivals & Departures. There is a lounge bar with TV and Internet services.
Price : 2,500,000 Euros Code : RHODES MV01
---
A Hotel For Sale 100 Metres to the Sandy Beach : Halkidiki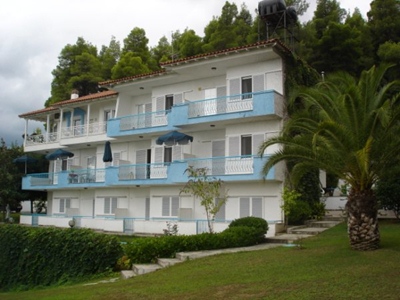 A hotel with ten apartments, located only 100 metres from the sandy beach.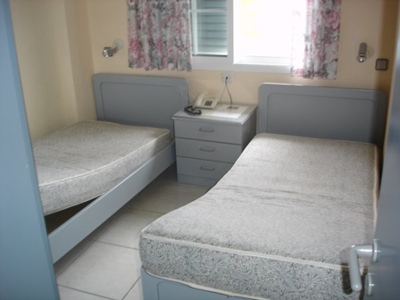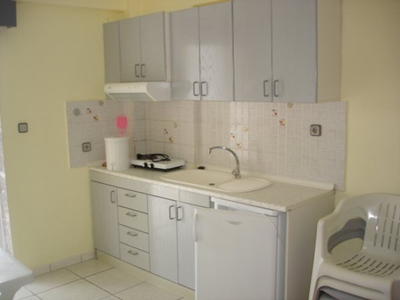 There is also 1 big apartment of 100 square metres with 2 bedrooms, a big living room, kitchen and bathroom, and wash house - store room of 40 sq mts.

There is a parking area for 10 cars on a plot size of 1800 square metres and a very nice BBQ area.

The area is very good as the hotel is situated with pine trees all round and the view to the sea is simply amazing.

For More Business Details And To Speak To The Vendor : Please Ask Brian

E Mail Brian.
Price : 1,000,000 Euro's Code : HALKIDIKI LEBUS/057
---
A Three Year Old Hotel Outskirts Of Nea Styra : Nea Styra : Evia South
A three year old hotel on the outskirts of Nea Styra, a ferry port with a service to the mainland at Agia Marina, Athens. It has self contained accommodation for 44 guests with parking and a large swimming pool. The aparthotel is situated at the end of a country lane, not far from main road out of Nea Styra and will benefit from being about 400m from the new bypass which is being constructed for the main Karistos to Aliveri road. It is a short drive to collect guests from the ferry terminal and walking distance of the beaches. All services are connected, including telephone, internet and satellite TV.
Commercial : Modern hotel for 44 guests : 30m swimming pool : Self contained apartments and studios : Mountain views : Walking distance of sea and Nea Styra : Recognised tourist location : Athens 90 minutes : Ferry from Nea Styra

Exceptional business opportunity for someone wanting a modern facility in a recognised tourist location.

Situated on the outskirts of the lively seaside resort of Nea Styra, this three year old hotel is in excellent decorative order throughout. Currently owned and personally run by an Austrian-Greek couple, this property offers an exceptional business opportunity. The hotel is on the edge of the countryside with all rooms/apartments designed around attractive patios, the mediterranean gardens and a super swimming pool. The property is within a designated area of outstanding natural beauty and the nearby mountains and coastline provide stunning scenery for the more sophisticated independent visitor.

The area is already popular with tourists for walking holidays and it is believed that there are many opportunities for activity holidays, including cycling, bird watching, swimming and archaeological visits - all of which would extend the traditional tourist season. Externally the property consists of a separate parking area, well maintained gardens and a 30m swimming pool. An attractive bridge spans the main pool and there is an adjoining hydro massage pool. There is a spacious paved patio outside the dining room, overlooking the pool. Built around the pool there are ten, 2 storey two bedroom apartments and 2 studios, providing accommodation for a total of 44 guests. The 2-bed apartments are each 42 sq. mts and have a patio and balcony overlooking the pool. The ground floor room has a double or twin beds, fitted wardrobes, built-in dressing table/desk, table & chairs, fridge, television, safe and a shower-room/wc. An internal staircase leads to the first floor, with accommodation for 2 more people, with wc & wash basin. Each room (including the 2 studio apartments) has air conditioning, double glazed windows & patio doors with insect screens.

In addition to the apartments there is a main building with reception area, dining room and bar. The dining room has 50 covers and in the summer months weddings, christenings and other functions have been held here, with buffets.

Price : 840,000 Euro's Code : HOTEL EVIA ABGB/1480
---
A 17 Bedroom Seaside Tourist Hotel For Sale : Vatera ( Agios Focas ) : South Lesvos
Probably The Only Truly Sea Side Property Between Vatera And Agios Focas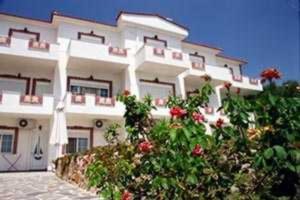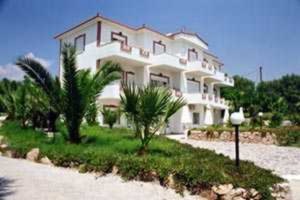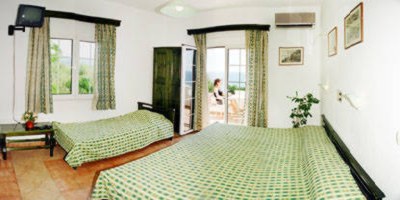 This is an impressive property with panoramic sea views and rich colourful gardens. Simplicity, comfort, good taste and natural beauty blend well together to make an ideal environment for your holidays... Relaxation and inspiration go hand in hand in this small paradise on earth surrounded by the azure colours of the sky and the Aegean Sea.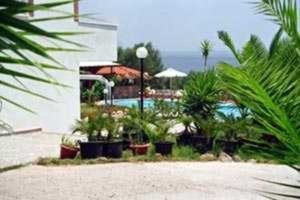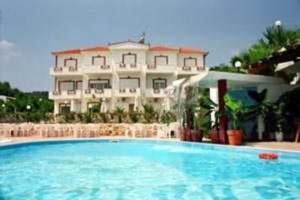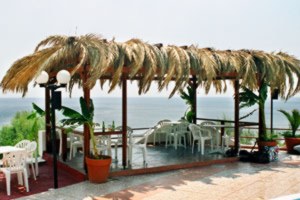 It is a Hotel of the highest quality, built 12 years ago at this coastal location. It is set in 12 stremmata of land with two separate entrances, car park , complete perimeter low wall and security railings, and two perimeter access roads (one for vehicles) to the private jetty and beach.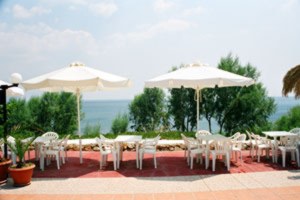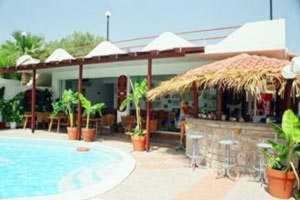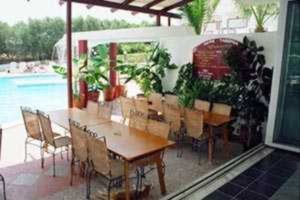 The property is ideally located and is currently used as a tourist hotel. It is equipped with all modern installations and facilities: They have individual bathrooms, telephone, radio, air-condition units, walled electric cookers, refrigerators and balconies full of sunlight. Equally it could be used as a medical or alternative health clinic or a corporate meeting, seminar and hospitality venue.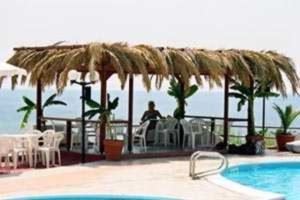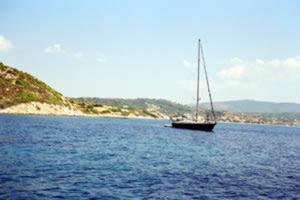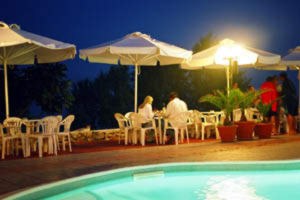 It has a large swimming pool and pool terrace with a fully licensed bar and restaurant facilities and panoramic views over the Aegean Sea... a venue which is suitable for wedding receptions and other celebrations (for up to 350 guests). The buildings are 600 m2 in size and comprised of: 17 Studios of 25 m2 each 1 Apartment of 30 m2 1 Apartment of 40 m2 Reception Restaurant Kitchens Planning permission can be gained for the construction of up to 2500 m2 of buildings for business use (a clinic, shops, guest rooms/studios etc). To be sold fully furnished and complete.
Price : 3.500.000 Euro's Code : LESVOS BUS/DBAGF
---