---
---
BACK TO

HOME PAGE CONTACT

E Mail Brian
Ionian Islands : Corfu & Paxos
Property For Sale In Corfu : Page 1 : For Page 2

Here : For Page 3

Here.
Island of Paxos

Here
For Holiday Properties In Corfu Click Here


Scroll Down To The Bottom To See All The Property.

Easy Jet now has daily flights From London Gatwick to Corfu for details click the Easy Jet Logo on my front page.
---
Corfu : Ionian Islands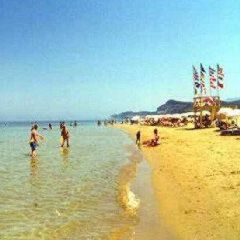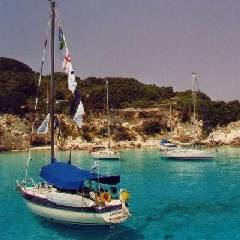 Brian's Web site is strongly established in Corfu and our Web Partners office is in Corfu Town.
It is particularly popular with the British but all nationalities now buy property on Corfu.
Brian has some Corfu partners working together for over 10 years with many satisfied customers.
There are some very good opportunities to buy property on this enchanted Island and this is only a selection.
Look out particularly for new build properties which are now available in Corfu. Tell me your requirements and Budget and I will find it for you.

---
An Apartment For Sale Only 50 Metres From The Sea : Barbati : Corfu
Very close by there is a Taverna and a beautiful beach with sun beds. You can sub let the apartment for summer rentals.
The apartment has one bedroom, kitchen, bathroom and balcony with sea view 50 metres from the sea, with parking space and a small garden behind.
Price : Only 64,000 Euros Code : CORFU TM/335

---
Sea View Apartments For Sale A Few Minutes From The Sea : Arillas : Corfu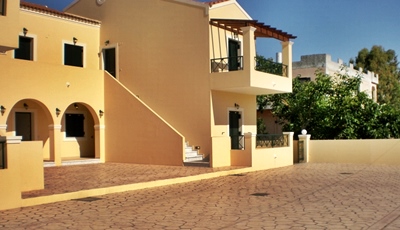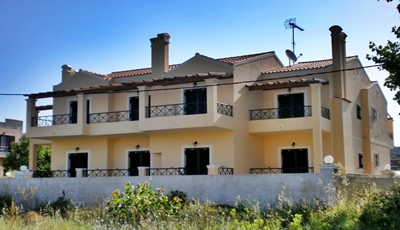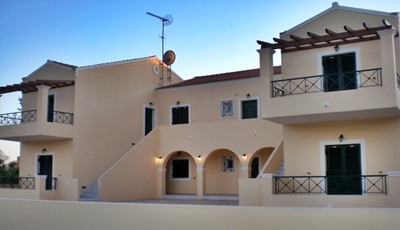 Situated just a few minutes walk from the sandy beach at Arillas, this ideal location offers 2 bed roomed apartments suitable for both holiday and long term accommodation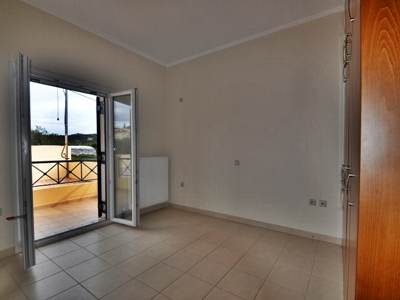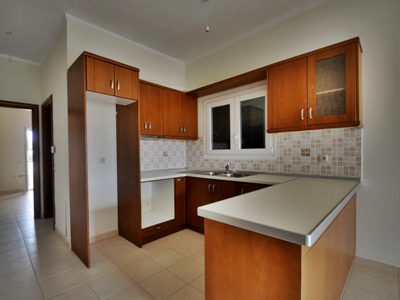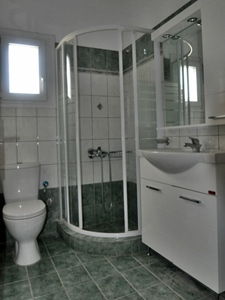 These new apartments have been built to a good standard. All have 2 bedrooms, 1 bathroom and an open plan living area with fitted kitchen and fireplace. They are all have central heating, satellite tv and a sea view. The block is surrounded by plenty of open space. There are 3 apartments available, 1 upstairs and 2 on the ground floor. The two ground floor apartments each come with their own 100sqm garden plot. There are plenty of amenities within walking distance including supermarkets, bars and tavernas. An excellent opportunity for a holiday home that is also suitable for all year round living.
Price : Only 110,000 Euros Code : CORFU GDSW/338

---
A Cottage Type House For Sale With Sea View : Kassiopi : Corfu
The house has total area of 110 sqm. and built on two floors. The first floor has one bedroom, lounge, kitchen and bathroom. From the kitchen there is access to the terrace. The outside of the house needs a paint job, hence the cheap price but everything else is in good order
On the second floor is a living room with two bedrooms and bathroom.
From the windows of the second floor there are beautiful open views of the sea and the mountains of Albania. There is also a parking space and a small terrace. Nearest Beaches are Kassiopi and Aulaki.
Price : Only 100,000 Euros Code : CORFU TM/356

---
A Beautiful Villa For Sale A Short Drive To The Sea And Coastal Amenities : Agios Martinos : Corfu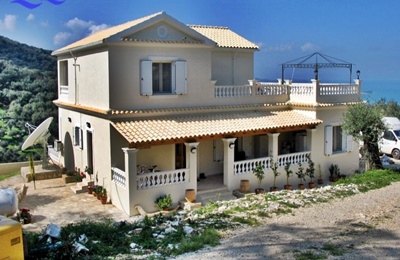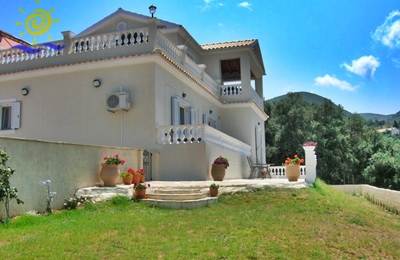 A 3 bed roomed villa for sale with sea views situated in the hills above Acharavi and just a short drive from the beach and main amenities there.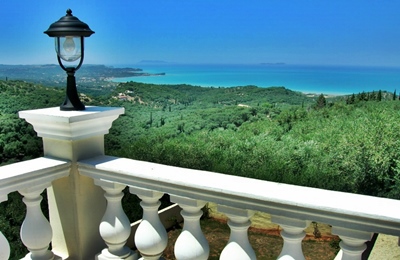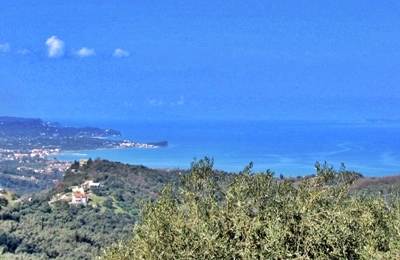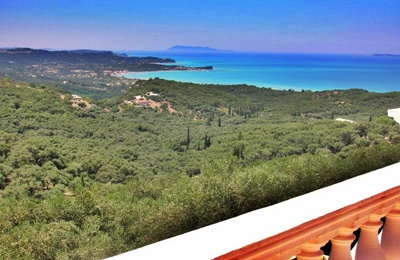 Completed in 2008, Villa Pagiouras is situated just above Agios Martinos. A tastefully designed and well proportioned property commanding stunning sea views. Use of subtle fresh wall colours, light ceilings and the main living area with sliding patio doors, provide a great sense of space. Generous covered verandas, balconies and terraces around the property enhance this experience still further.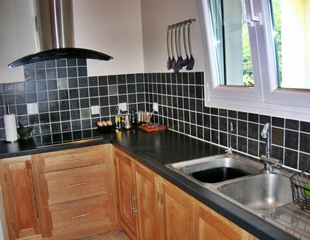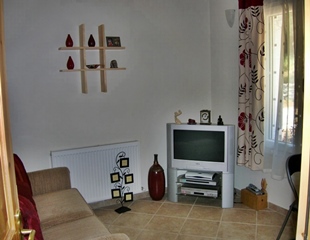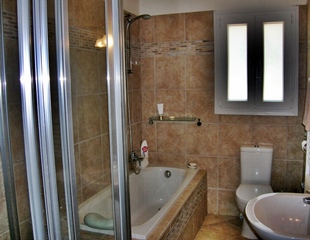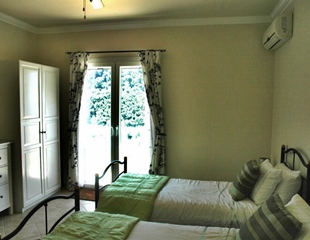 The property has three good sized bedrooms with a further room which can be used as either a fourth bedroom or study/office. Some bedrooms have fitted wardrobes and three have en-suite bathrooms with sea view verandas. In addition there is a guest WC at ground floor level. The kitchen is well designed and fully fitted incorporating a full range of modern appliances. Careful planning and attention to detail are apparent throughout the property. The kitchen and dining area are adjacent to each other on the first floor and a terrace off the kitchen has fold away transparent wind breakers that pull down, enabling alfresco dining during the winter. Floor finishes are large Italian ceramic floor files throughout in a light sandstone finish. Central heating and air conditioning have been fitted throughout the bedrooms and living area.
Natural landscaping with rockeries, flower beds and a perfusion of potted plants surround the house. There is also scope to build a pool here if required.
This villa is tucked away from the main village and has been designed to maximise the benefits of its position. This high quality property is ideal for entertaining guests and relaxation.
Price : 350,000 Euros Code : CORFU CPS/248

---
A Fully Renovated Large 5 Bedroom Villa For Sale With Spectacular Sea Views : Pyrgi : Corfu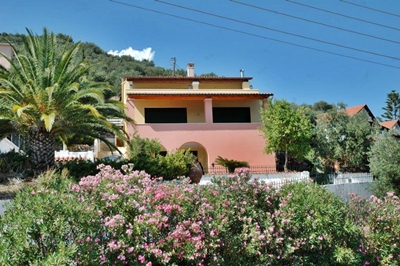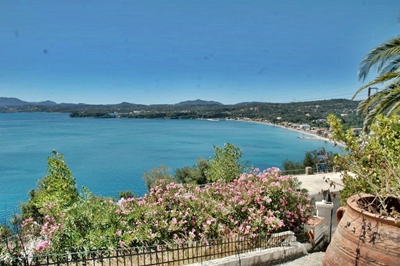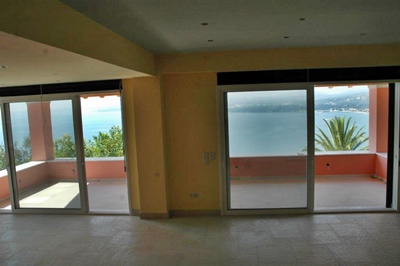 A fully renovated villa with spectacular sea views, available on the popular holiday island of Corfu.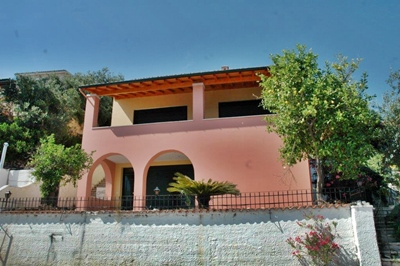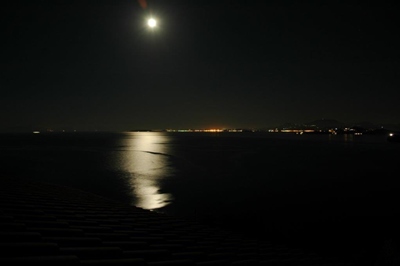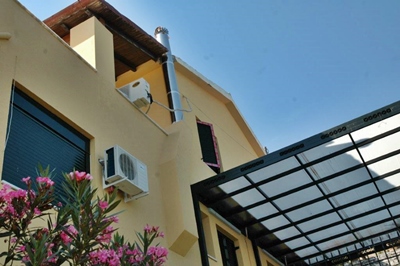 Situated near the village of Pyrgi, the property it is just a 15 minute drive from Corfu Town and the port and only a 20 minute drive from the airport. Two of the most beautiful beaches on the island of Corfu, Barbati and Ipsos are only a 5 minute drive.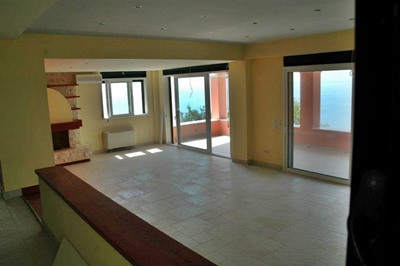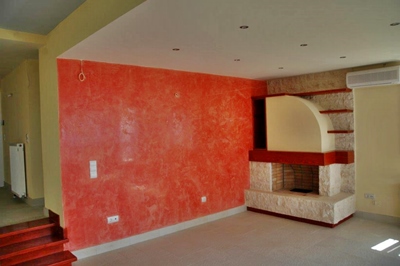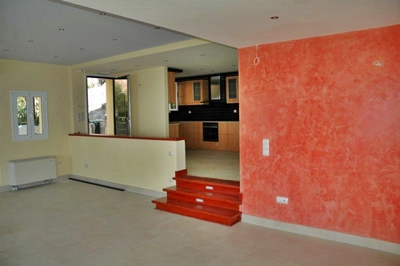 The villa was fully renovated both internally and externally in 2008. The renovation included all walls, structural columns, as well as external weather protection. Since then, the property has had only minimal occupation and remains in excellent condition.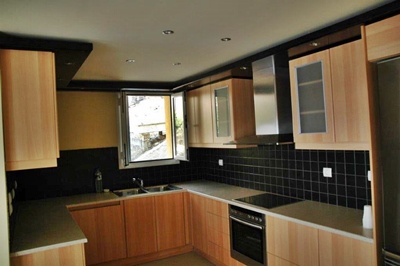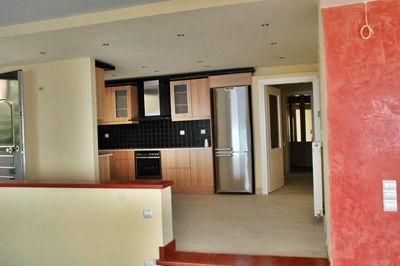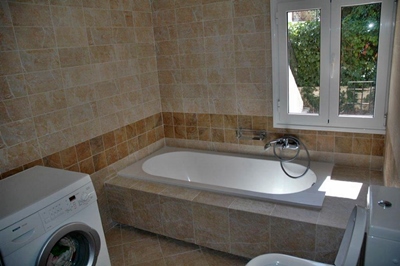 The property has a total floor area of 300 square metres and comprises three autonomous floors :

Ground floor. 65 square metres, including living room, bathroom, kitchen, one bedroom and balcony. First floor. 142 square metres, including a large living room with fireplace, three bedrooms with en suite bathrooms, large kitchen, a dressing room and a large balcony. Second floor: 90 square metres, including living room with fireplace, two bedrooms, kitchen, bathroom and a large balcony with spectacular views. The three floors include air conditioning in all rooms, inverter radiators, security alarm and satellite television installations. The villa sits on a land plot of 2,700 square metres, which includes private vehicle parking and a beautiful olive grove

Price : Reduced to 1.2 Million Euros For A Quick sale Offers Invited In Excess Of 1 Million Euros. Code : CORFU SM/PYRGI

---
A Fully Renovated House With Beautiful Sea Views : Nissaki : Corfu
The house is located in the most exclusive area of Corfu, Nissaki - Biglatsouri, and is a most beautiful villa with stunning sea views.
The house has a total area of 110 sq mts, and is within a plot of land 2500 sqm. and can be lived in whilst changing to your own tastes..
Next to the house is a small house of 40 sq mts that can be changed as a guest house, The land is plenty big enough for you to build a personal swimming pool.
Price : 140,000 Euro's Code : CORFU TM / 353&nbsp

&nbsp

---
A New Villa Very Close To The Sea : Kassiopi : Corfu
The house is located in the area of Corfu, Kassiopi very close to the sea, and is a most beautiful villa with stunning views.
The villa is 120 square metres in area and built on a total area of ​​4000 sqm, and has a beautiful view of the sea and the mountains of Albania. The land has a possibility of an additional construction guest house with total area of ​​100 sqm. The villa has two floors and consists of salon-kitchen with direct access to the pool, two bedrooms and two bathrooms. The villa has a contract with a travel agency for rental all summer.
Price : 320,000 Euro's Code : CORFU TM / 352&nbsp

---
Old House And Land For Sale : Pelekas : Corfu
This land, has sea views and inside the land exists an old house of 70 sq mts. The land size is 1200 square metres. The house can be renovated with out the need for planning permission, as this permission already exists, so there are no extra costs. however if you want to go bigger ( The Allowance is up to 200 sq mts ) then you will need to pay for the extra.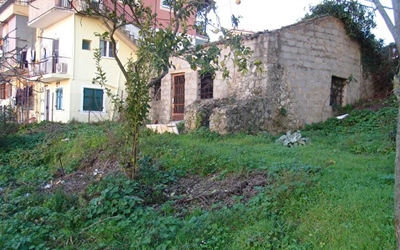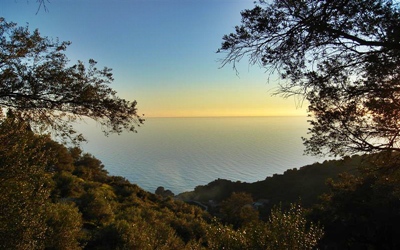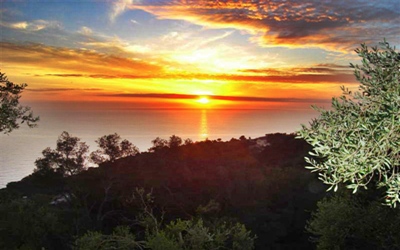 This is a great opportunity to get a foothold in Corfu.
Price : 72,000 Euro's Code : CORFU VA/PELE
---
A Cottage Style Property At The Central Square : Agioi Deka : Corfu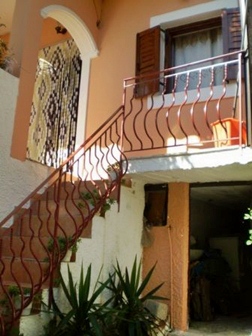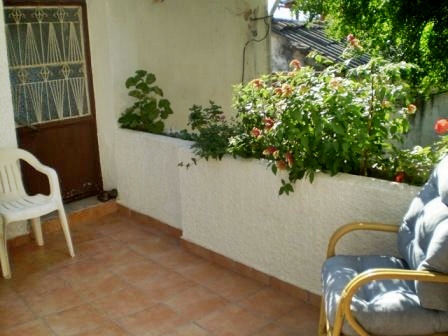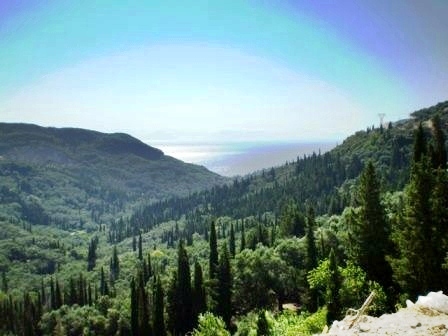 This property is at the central square in the village of Agioi Deka which is in Central Corfu. The traditional stone-wall residence consists of two bedrooms, a living room, kitchen, and bathroom and W.C.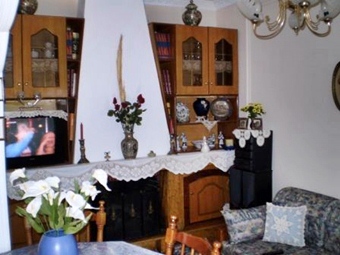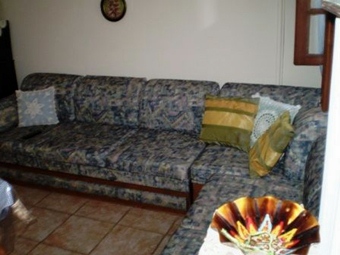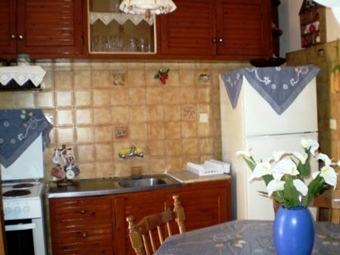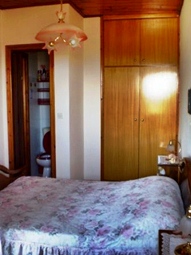 There is a nice outdoor terrace and the nearest beach is Agios Gordios
Price : 70,000 Euros Code : CORFU TMK / T74
---
A New Construction Villa : Rachi : Palaiokastritsa : Corfu
This Modern Mediterranean Villa is located in a quiet area amongst olive groves overlooking the Ionian sea.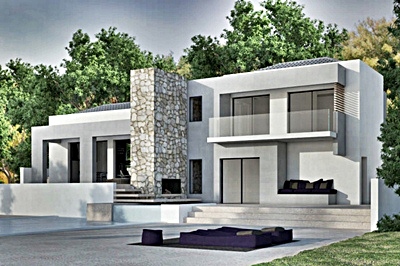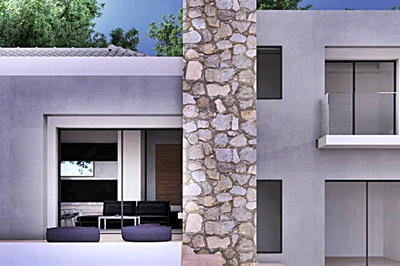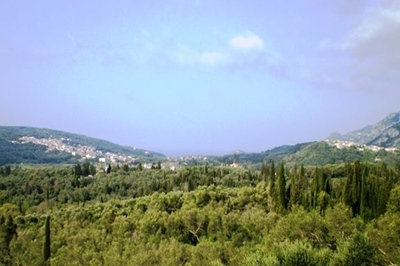 Overlooking the crystal waters of the Ionian Sea this development is located minutes from the islands capital and its amenities, the international airport of Corfu and breathtaking beaches.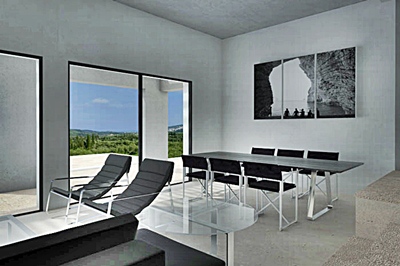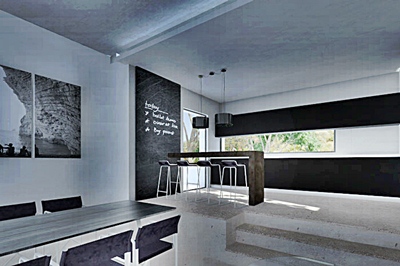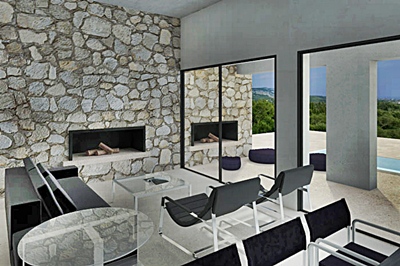 A graceful floor plan of 1.725 sq ft (160 sq m) features three spacious en suite bedrooms with walk in closets and private balconies, a large living area with a separate kitchen and dining area and a large multipurpose room that can be converted into a fitness centre, media screening room, game room or simply used as a family room. Surrounded by landscaped grounds, it includes an outdoor paved area leading to the outdoor spa and patio areas. Fine design with beautiful details set on a plot of 7,2880 sq yd. ( 6094 sq mts ) In-house consulting with the architects of the house is included in the price, and covers kitchen, bathroom, closet & cabinet customization as well as selection of all finishes for the house (tiling, flooring etc) & colour coordination services making each house unique and fully customized to one's preference.
KEY FEATURES : 160 square metres : 2 Floors : 3 En suite Bedrooms : 3 1/2 Bathrooms : Walk in closets in all bedrooms : On Site parking : Sea and Hill views : Balconies : Indoor Fireplace : Outdoor Fire Place : Outdoor Fire Pit : Salt Water Swimming pool : Outdoor Spa : Large front and back yards.
Price : All at the superb price of 303,000 Euros Code : CORFU MK/011
---
A Corfu Villa For Sale : Agia Georgi : North West Corfu
This 135 square metre property is a lovely villa with a great veranda for outside dining and with a superb swimming pool
Located near to Ai.Georgi, it is approx.4 km. to the sea. The property comprises the following: Living room, kitchenette, 3 bedrooms, 1 bathroom, and a garden. There is a guest apartment with an independent entrance, composed of a bedroom and bathroom.
Externally, there is a well maintained large garden 3.450 sq metres,there are super terraces and a swimming pool.
The price is key in the door and includes all the furniture and one car.
The Price : 425,000 Euros NOW SLASHED to : 390,000 Euros or Near Offer. Code : CORFU TMK / 162 &nbsp

---
7 Sea Side Maisonettes By The Sea Only 20 Metres From The Beach : Argirades : South Corfu
7 new maisonettes of 135 square metres are for sale only 20 metres from a sand beach in Argirades.
Each maisonette consists of 2 floors and has 3 bedrooms, a balcony with a sea views, a garage for parking and a small garden.
Argirades is located 25 km. from Corfu town and also has tavernas, bars and supermarkets very close.
Price : 270,000 Euros Code : CORFU TMK / 266
---
A Sea Side Villa For Sale : Kassiopi : Corfu
A Villa for sale in Kassiopi 100 meters from the beach.
The villa consists of a living room and a kitchen on the ground floor with a small WC and swimming pool. The second floor has two bedrooms with a bathroom and a balcony with sea view.
The villa is 100m. from the beach and 500 meters from the tourist center of Kassiopi.
Price : 265,000 Euros Code : CORFU TMK/300
---
A Renovated House For Sale : Drosato : North Corfu
A renovated house 50 sqm. in Drosato is for sale. The house is completely renovated and is waiting for a buyer. It has one bedroom, kitchen and bathroom and is 8Kms to the sea. The nearest beaches are Sidari and Roda.
Price : 45,000 Euros Code : CORFU TMK/325
---
A 5 Bedroom House For Sale Only 300 Metres From The Sea : Agios Georgios Pagon : North Corfu
This two storey property is divided into two separate apartments, with a total floor area of 250 square metres. The ground floor apartment features an open plan kitchen/living/dining area, and two bedrooms and a bathroom. On the first floor, there are another three bedrooms, an open plan kitchen/living/dining area, and one bathroom.
This two storey property is divided into two separate apartments, with a total floor area of 250 square metres. The ground floor apartment features an open plan kitchen/living/dining area, and two bedrooms and a bathroom. On the first floor, there are another three bedrooms, an open plan kitchen/living/dining area, and one bathroom.
The distance to the beach is only 300 metres. The property is set in a plot of 1.100 sq. metres with flowers and trees..
Price : 265,000 Euros Code : CORFU TMK/17

---
A Ground Floor Apartment A Stones Throw From The Beach : Acharavi : Corfu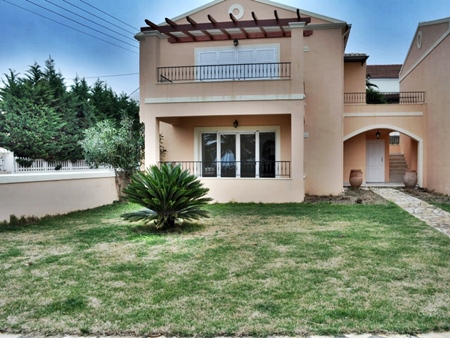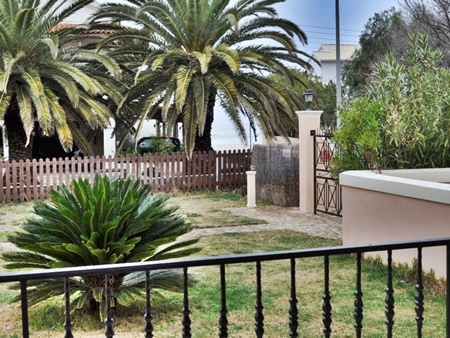 A well presented ground floor apartment just a stones throw from Acharavi beach. Centrally located, it is also just a 5 minute walk up to the town centre to all the main amenities.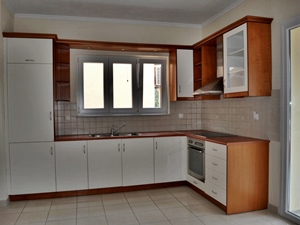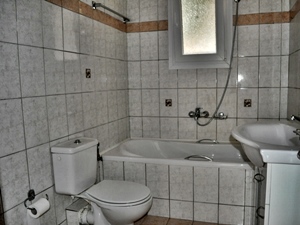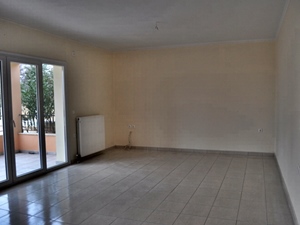 Accommodation consists of an open plan kitchen, dining and sitting area,

two double bedrooms

with fitted wardrobes and a bathroom. Patio doors in the sitting area lead out to a terrace. The property has been built to a high standard, is well insulated, has UPVC double gazed windows and benefits from central heating. The apartment is one of six set in well maintained grounds and has a designated parking space.

The perfect holiday home at an excellent price.

Price : 135,000 Euros Code : CORFU GDSW/274

---
A Delightful Country Home Set In A Quiet Area Amidst Abundant Trees : 8 Klms South Of Corfu Town
J

ust a short drive from nearby villages and lovely beaches, it is a private haven in a very convenient location and is ideal as a base from which to explore all the attractions of Corfu.
"Floreat" is truly an oasis with lush grounds containing palm trees, tropical plants and fruits including lemon, fig, pear, walnut, olive, grapefruit and peach. A tennis court is overlooked by a wooden deck for alfresco entertaining, and there is a swimming pool surrounded by terraces. The land area of 4,000m2 is completely fenced and perfect as a play area for children.
The Villa of 200 square metres was built in 1978 and renovated in 1998. Its ground floor offers an entry hall with a high ceiling and adjacent guest W. C., a large living room with fireplace and doors opening onto a charming flower filled verandah, a fully equipped spacious kitchen with access to a covered outdoor dining terrace, a cozy sitting room with fireplace, and one bedroom with en-suite bathroom. Upstairs are two large bedrooms each with bathroom en-suite and doors to a sea view balcony. Steps lead to a roof terrace with panoramic views of the sea.
Price : 600,000 Euro's Offers Invited. Code CORFU DB / 011
---
3 New Houses For Sale : Ai Gordis : South Corfu
3 houses hosted on a hilltop in the coastal region of South Corfu Ai.Gordis (just 10 minutes from the sea and 25 minutes from Corfu town) and give dramatic views of the blue sea.
The first house is a generous 157 mē, and spanning 3 levels, have a great terrace on the first floor, and living room, kitchen and bedroom with bathroom. On the second floor it has 1 bedroom with bathroom and balcony. On the ground floor you will find 1 bedrooms and a bathroom. Price of this particular property 380,000 Euros
Houses 2 and 3 are 87 mē have 3 bedrooms and 3 bathrooms, a private garden and sea views.
All houses are built with extremely high manufacturing standards, with excellent quality materials to ensure you have all the comforts of a modern newly built house.
Price : 210,000 Euros Code CORFU TMK/118
---
A Fantastic Location 3 Bedroom Property Only 100 Metres From The Beach : Avalki : Corfu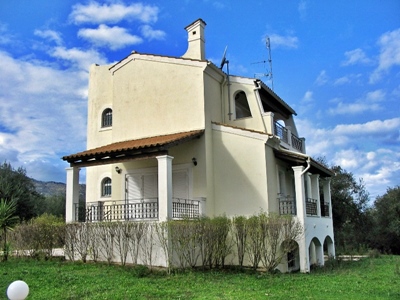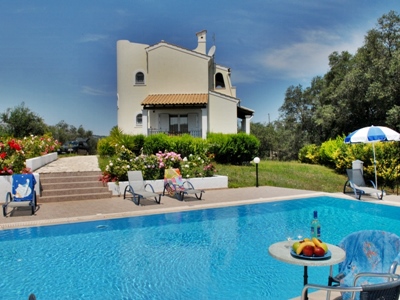 A modern villa built in 2001 with a 164 square metre house, in a 3,500 square metre gated garden. This is set in a beautiful location accommodating a well-built villa with three bedrooms, all with en-suite bathrooms. Each bedroom has built-in wardrobes and an external balcony. The house is fully furnished from beds, bedding and seating, to knives, forks, cups and spoons.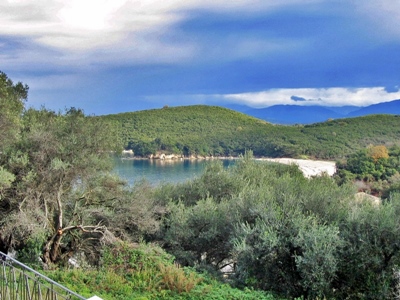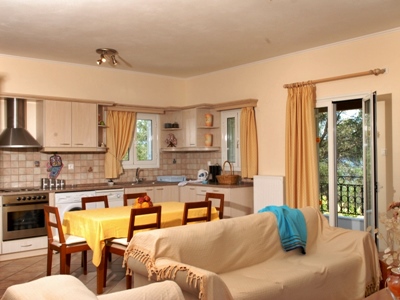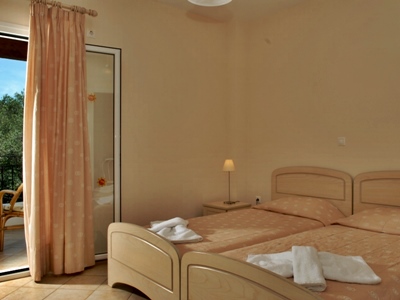 It lies within 100m of the beach and the tavernas at Avalki, overlooking the beach, this property has everything a holiday villa needs. The beach also has water sports facilities with a sailing and windsurfing school and its clear waters are perfect for snorkelling.
The property is suitable for holiday rental and comes with a solid rental history.
Price : 700,000 Euros Or Near Offer Code : CORFU GDSW/160
---
A Traditional Cottage Only 5 Minutes Drive To The Beach : Loutses : North Central Corfu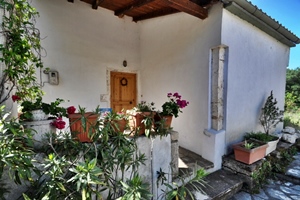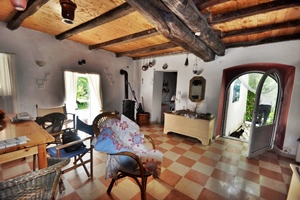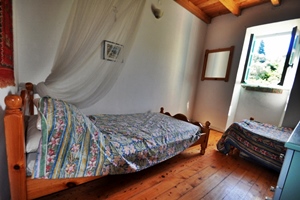 A traditional cottage situated in the village of Loutses. Originally renovated approximately 18 years ago in keeping with the original style. The front door opens into the hallway. Off this are the two bedrooms and a bathroom. The first bedroom is a double and the second fits two single beds. A staircase leads down to a large sitting and dining area and a separate kitchen. From the sitting room the back door leads out onto a terrace area which opens out onto a pleasant garden with various fruit trees and a grapevine.
A lovely house with lots of character, this would be perfect as a peaceful location for a holiday getaway. The village of Perithia with local shops and tavernas is 5 minutes away and for a wider range of amenities Acharavi is just a 15 minute drive. A short drive up the mountain takes you to the listed village of Old Perithia which has several tavernas and a small boutique hotel.
Price : 130,000 Euros Code CORFU GDSW/282
---
A Spacious Three Bed Property : Agios Panteleimonas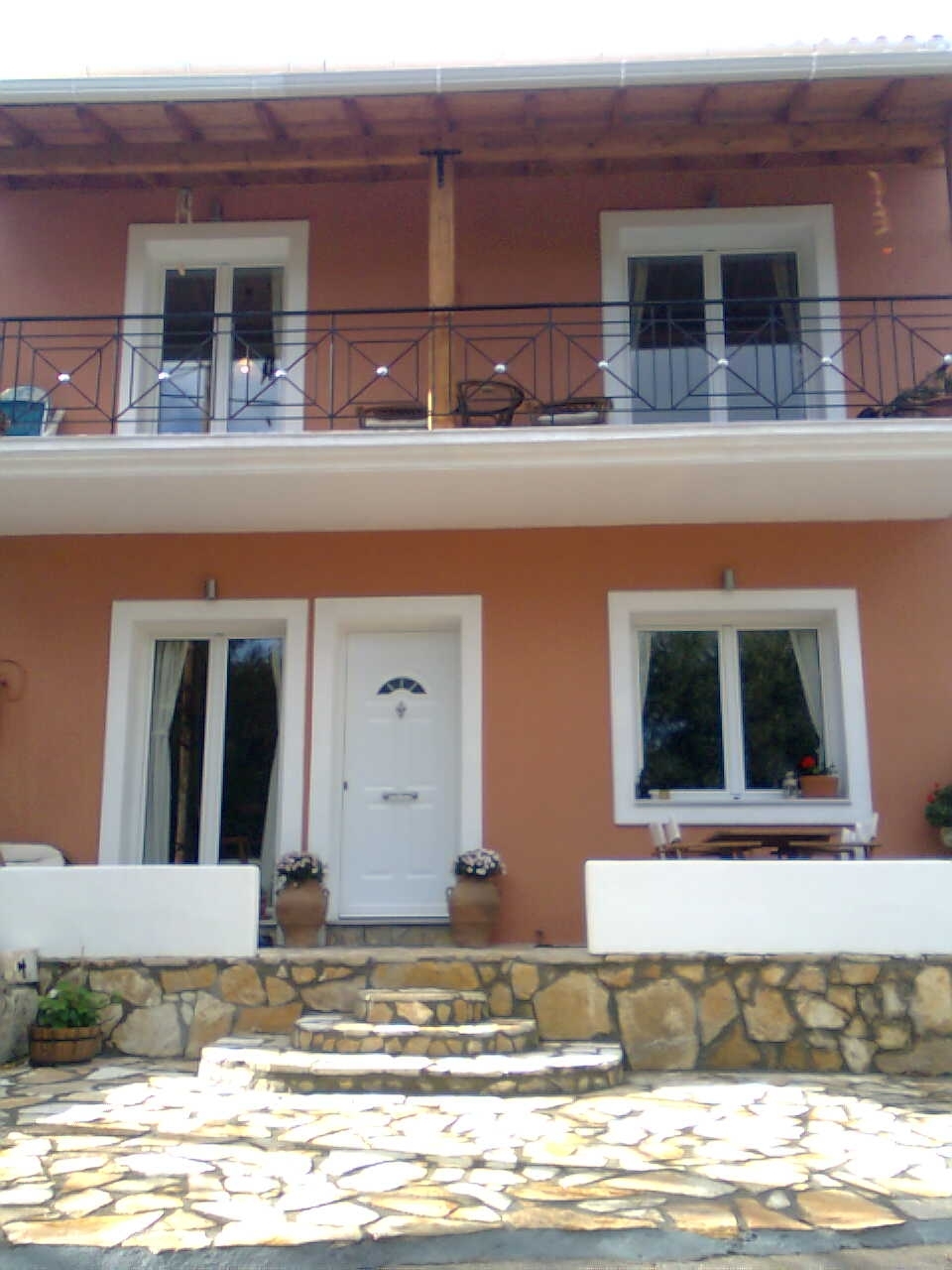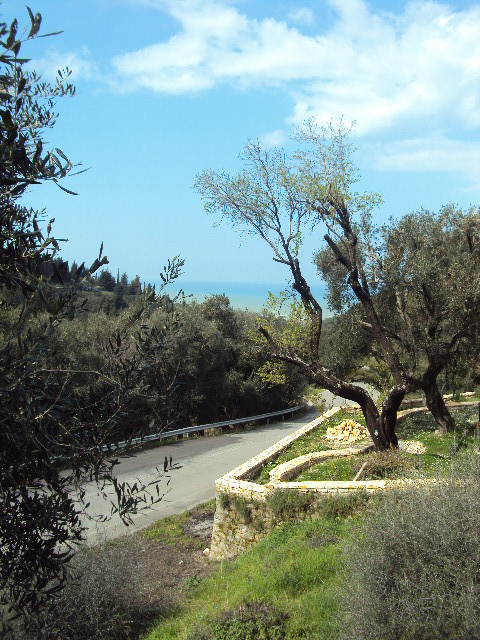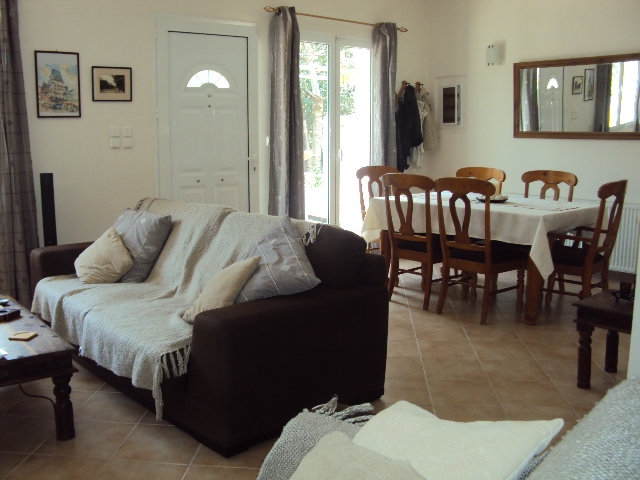 A 3 bed roomed semi detached property set in the olive groves just A few minutes drive from the centre of Acharavi.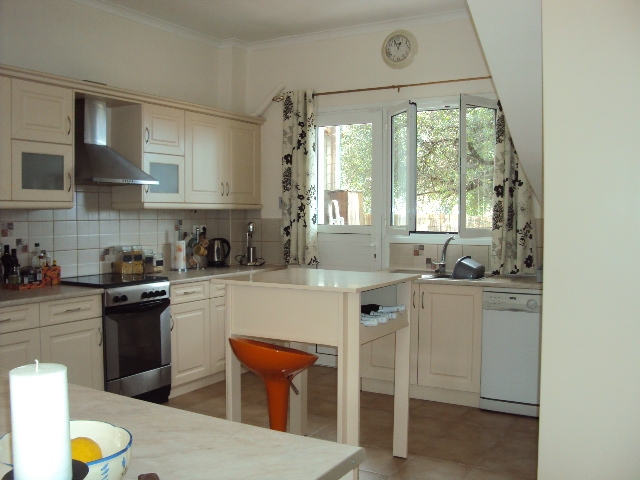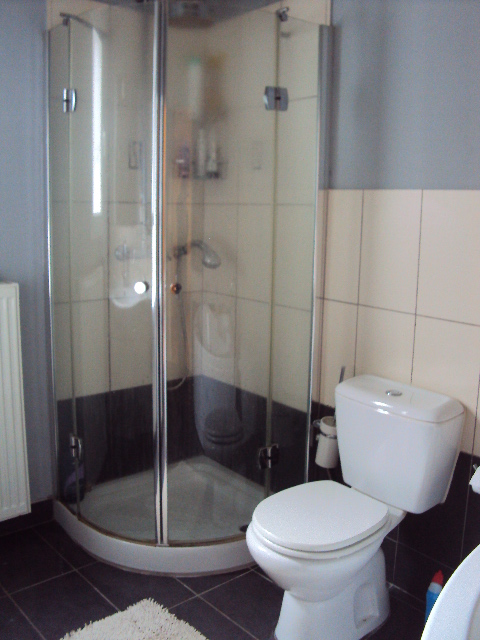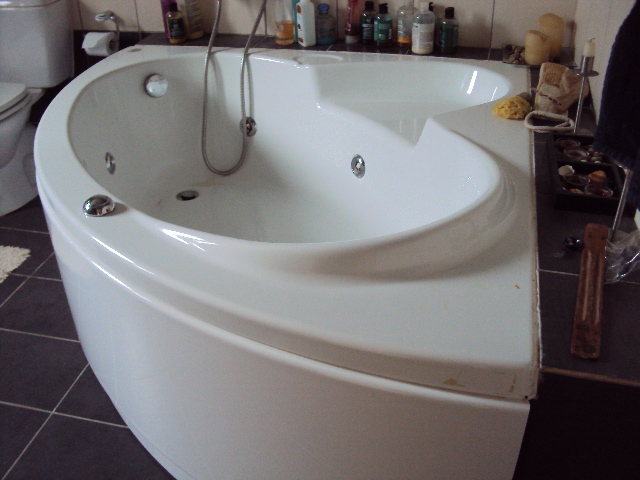 Inside, it is surprising spacious with the entrance opening onto the dining area with a lounge area off the right and the kitchen to the rear of the house. A central staircase leads upstairs leaving room for a study / work area to the right. There are currently two good sized double bedrooms upstairs and the upstairs lounge area could easily be made into a third bedroom. The bathroom is spacious with both a Jacuzzi bath and separate shower. There is also a loft area accessed from the upstairs lounge that has been well organised to offer plenty of storage.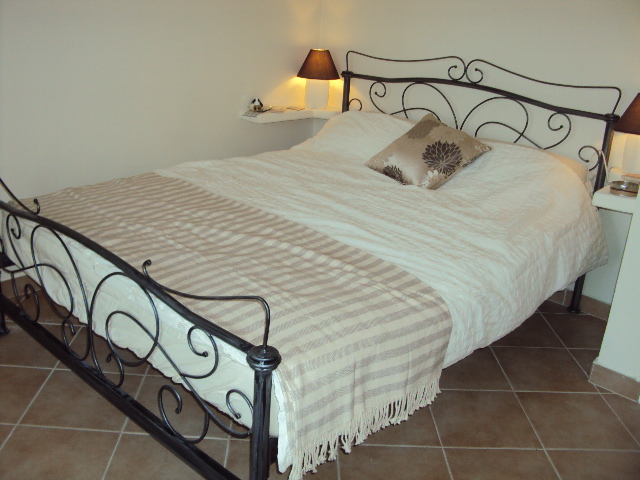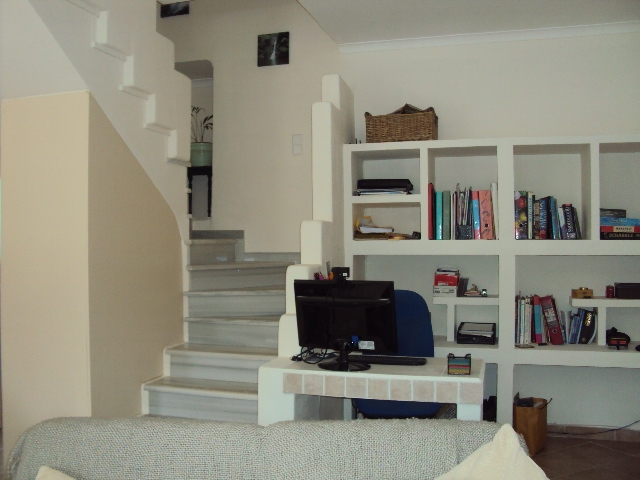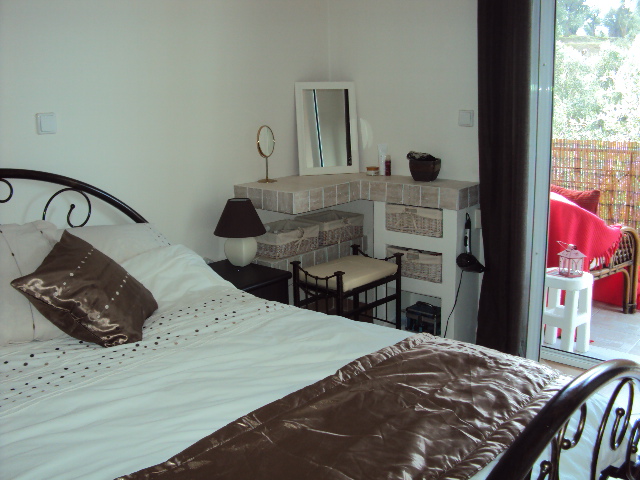 There is a parking area at the front of the property and to the rear a small courtyard area. There is however the opportunity to purchase an adjoining plot of 500sqm should a potential buyer require extra land. Acharavi has plenty of facilities and shops with one of the only banks outside of Corfu town. Many of the Shops and tavernas remain open throughout the year making it an excellent place for a permanent home as well.
Price : 165,000 Euros Code CORFU GDSW/307
---
A New 2 Bedroom Bungalow In A Small Complex : Western Corfu
This New House is 70 m2 on a 280 m2 plot. (There is space for a small pool.) It has an open kitchen - living room, 2 bed rooms and 1 bath room.
Close to the beautiful West coast beaches, and the golf course and the AquaLand, Corfu's water park.
Price : 147,200 Euro's Code CORFU AT/067
---
Six New Houses : 3 Sets Of 2 : Central Corfu
The properties are in central Corfu, at the edge of a small village, about 10,5 km from Corfu town and about 5 min from the beaches on the central east coast and 10 minutes from the beaches on the central west coast. One of the biggest supermarkets is near, about 3 km from the property. Very suitable for all year round living, or as holiday homes.
In central Corfu a total of 6 houses will be built on plots of 2.000 m2 land each. The houses will be in 3 sets of 2 semi-detached houses with 3 bed rooms and 2 bath rooms each, open kitchen/ living room with a fireplace.
1. 113 m2 on one level. 2. 132 m2 on two levels, this house also has a garage that can be turned in to a small bedroom or study. All houses will have central heating, separate for each house.
Room For Swimming Pools : 5 Minutes From Beaches : Finance Available
Price : Single Level House (113 square metres ) : 236,000 Euro's
Price : Two Level House ( 132 square metres ) : 262,500 Euro's Code CORFU AT/069
---
An Exceptional Water Front Property : Northern Corfu
On the North of The Island of Corfu between Aharavi & Kasiopi on a most picturesque coast we have a beautiful building plot for sale.
It has over 4,000 square metres of land with the right to build up to 200 square metres of house ( Plus the basement & garage) on a gently sloping site.
The sea views are exceptional, crystal blue waters lapp the front of the plot where there is a path at the edge of the property leading to a small beach for secluded swimming. Island life as it was meant to be.
Price : 371,000 Euro's Code CORFU AT/059
---
Fabulous Sea Side Plot For Sale : Astrakeri : Corfu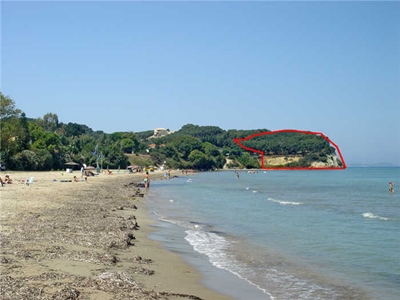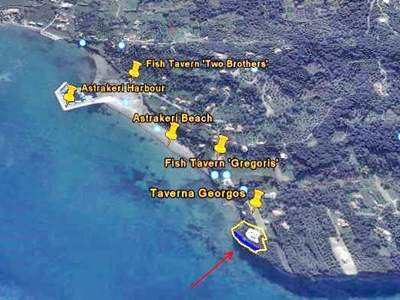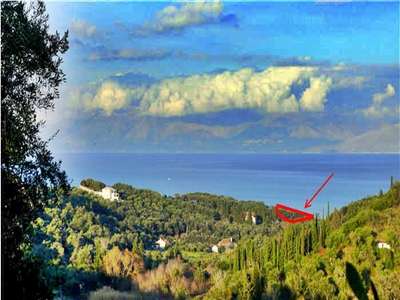 Situated on the North Coast of Corfu between the resorts of Roda and Sidari. The plot is 5,133 sqm in area of which 832 sqm are designated as seashore and can't be altered. The sandy Astrakeri beach is close by while the Astrakeri marina is a few hundred metres away.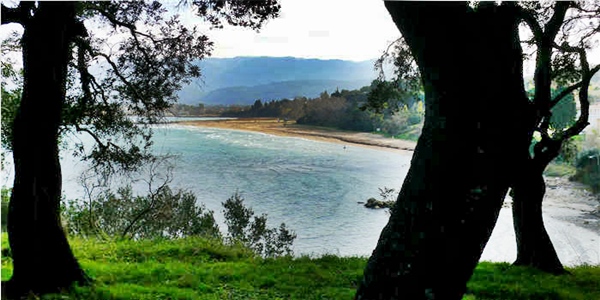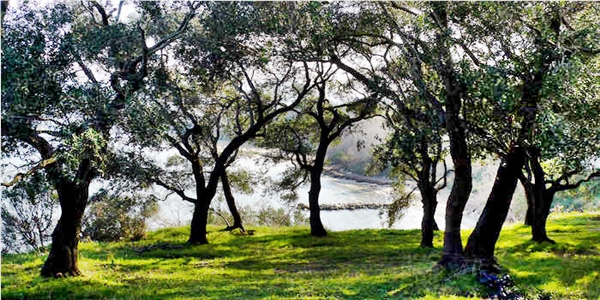 The plot is gently sloping down towards the East. It would be possible to build a villa up to 200 sqm in area plus a pool. Much of the plot is taken up with olive grove, there being some 65 trees in total.

This is rare opportunity to purchase a waterfront property at a competitive price.

Guidance from purchase to completion is available.

Price : 248,000 Euros Or Try An Offer Code : CORFU PLOT GDSW/279
---
A Beachfront Plot For Sale : Agios Georgios : Corfu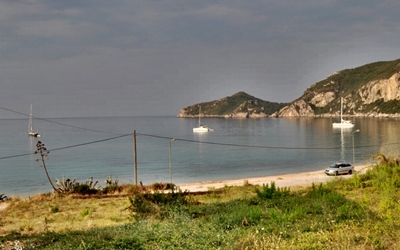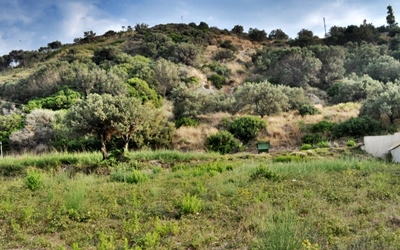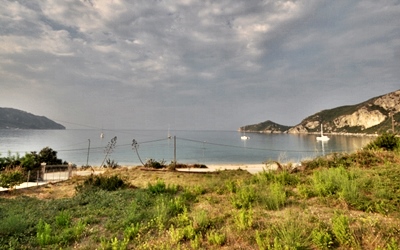 Absolute beachfront with excellent views. Situated on the beautiful sand beach of Agios Georgios in North land is 1,747 sqm and is gently sloping affording good views while easy to build on. A villa up to 130 sqm could be built.
An Unusual opportunity. Guidance from purchase to completion is available.
Price : 190,000 Euros Or Try An Offer Code : CORFU PLOT GDSW/315
---
A 5 Bedroom House : Peroulades : Corfu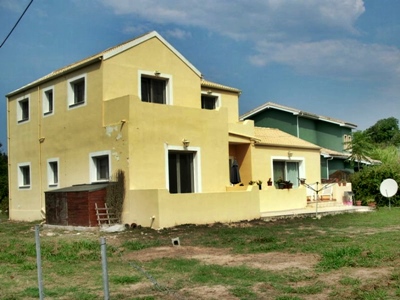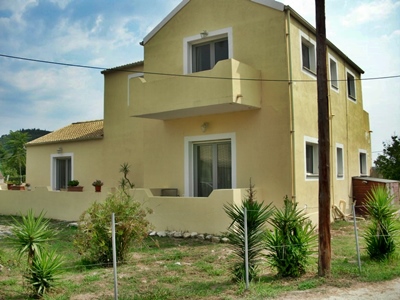 Situated on the edge of the traditional village of Peroulades, this 5 bed roomed family home is an excellent buy ! Just a short walk to the beach at Loggas, locally known as ' Sunset beach ' and very close to the facilities in the centre of the village, this is a perfect spot.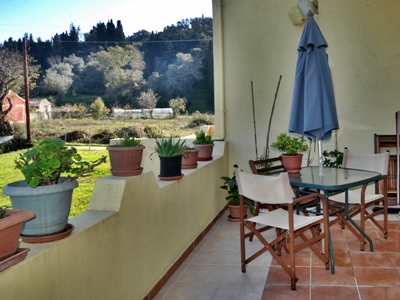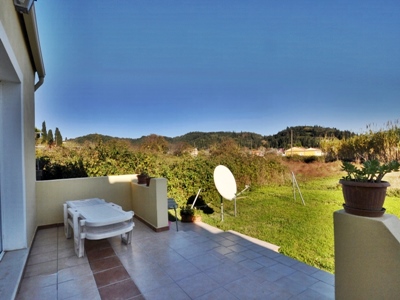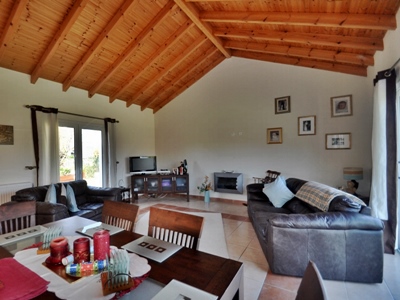 The entrance to the property leads into a kitchen area , with the living and dining area off to the left. Large balcony doors open out on a terrace area at the back and the garden. To the right hand side of the kitchen is a small archway leading to two double bedrooms and a large bathroom. There is also a small laundry cupboard.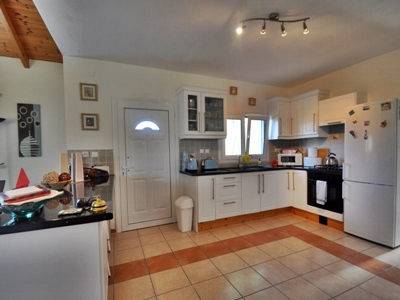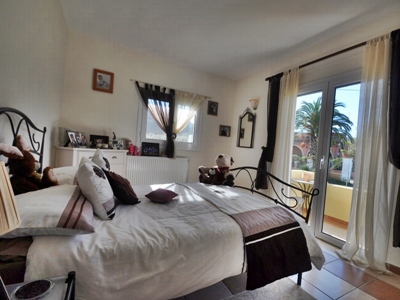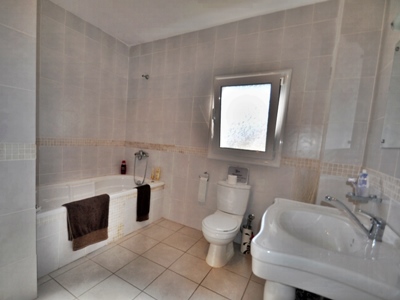 A wooden staircase leads to the upper floor which has 2 more double bedrooms and a second bathroom. There is also a third bedroom which currently holds a single bed but could probably take a small double if required, or would make a perfect office.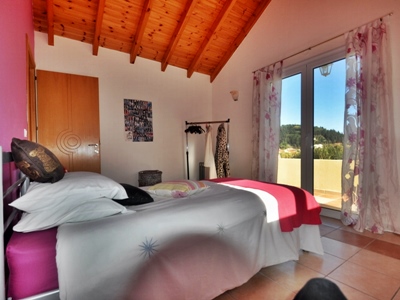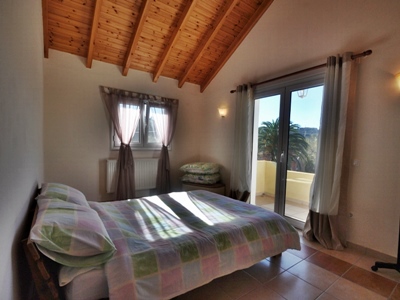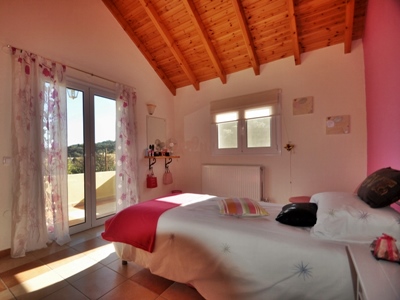 The property has been built with the quad lock system which gives high insulation values making it cool in summer and warm and winter. Central heating has also been fitted throughout. House Size 170 Square Metres : Plot Size 813 Square Metres : 5 Bedrooms : 2 bathrooms.
There is room in the garden to plant fruit trees and shrubs and to build a swimming pool for which there is a permit in place.
Price : 190,000 Euros

Very Good Price For A 5 Bedroom Property

Code : CORFU GDSW/319
---
An Apartment Block With 6 Apartments And Pool 2 Metres From The Sea : Kassiopi : Corfu
An apartment complex on the seafront in this popular tourist area in Corfu is for sale giving a return if you do your own bookings of 80,000 Euros per annum. The complex consists of 6 apartments fully furnished with sea views.
At present contracted out to a holiday company it has an income of 40,000 Euros . It is situated on the sea front, only 2 metres from the sea with lovely sea views.
It comes with a large well used swimming pool and the distance from the sea is only 2 m. The complex runs on the season of 2012 and has a contract with travel company.
Price : 620,000 Euros Or Offers Code : CORFU BUS/TM/295

---
Two Maisonettes For Sale : Together Or Separately : Kalami : North East Coast : Corfu
KALAMI BEACH VIEW, north east coast An unusual opportunity on this part of the coast, where property prices are at a premium - two maisonettes, for sale together or separately, on the main north east coast road, with great views down to the beach at Kalami 145,000 Euros per house, or 280,000 Euros together These two bedroom houses are located just above the main road, offering convenient access down to the village of Kalami, for tavernas and the beach. The properties are approached by steps leading up from the road, with front terrace leading into an open plan kitchen/living area, with guest W.C. Stairs lead up to two spacious bedrooms, with fitted wardrobes, and the family bathroom. Both bedrooms have French doors leading out onto the balcony, to take advantage of the view down to the sea. Steps lead up the side of the properties to a garden with orange trees, lemon trees, a vineyard with room for the installation of a swimming pool. The whole area is surrounded by olive trees.
Parking is available on the road at the moment, but it would be possible to make a garage under the properties. The houses, constructed in the 1980's are in pristine condition, and totally ready for occupation either for full time residence, or as holiday homes. Generally speaking, properties on this section of the north east command premium prices, so these maisonettes represent a good opportunity to 'buy in' in this area, at an economical price.
Live In One and Let The Other One or Buy With Friends : Now There's A Thought.
Price : 200,000 Euro's. For Both Properties Code : CORFU CV/010

---
A Beautifully Renovated Corfioti Stone House Built In 1812 : Varypatades : Corfu
This is a unique beautifully renovated stone house, originally built in 1812 with very thick stone walls. The renovation was done in 2001 with a new roof put on in 2003. The area of the house is 120 m2 on 2 levels. It has a large living room with a fire place and a small bath room on the ground floor, from the ground floor you can walk out to a quiet small back yard. On the upper level (that also has an entrance) you find the kitchen, that has sea views, the dining room and the bed room with the bigger bath room. The house has central heating and is made for all year round living. It also has its own parking space.
The price includes a non renovated house next door of 45 m2 that can add space to the main building or be used as a separate house. This property can be turned into a 2 level house with a roof terrace that would have beautiful views of the island.
Price : 315,000 Euro's Code CORFU AT/076
---
Six Newly Completed Apartments : Arillas : Corfu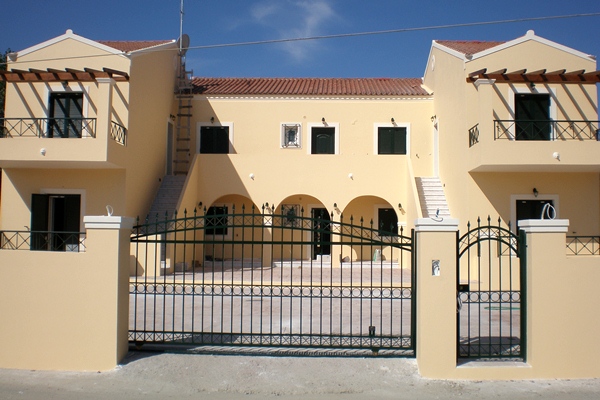 In a safe gated community, these 6 apartments are located at Arillas in the North Western part of Corfu, and are no more than a couple of minutes walk to the Golden Beach and resort facilities ( Health Centre : Mini Market : Broulis Taverna, etc. ) of Arillas. Arillas is a quiet and safe resort which has retained its traditional character and has a variety of small family run tavernas and shops. The area is ideal for families, as children can play on its golden sandy beach or swim in its shallow, crystal clear waters.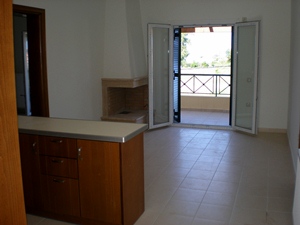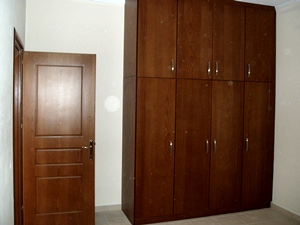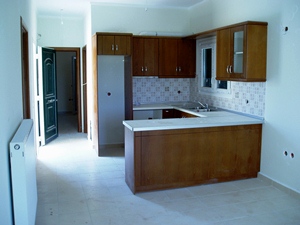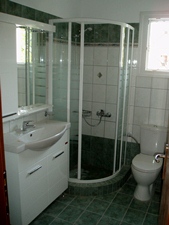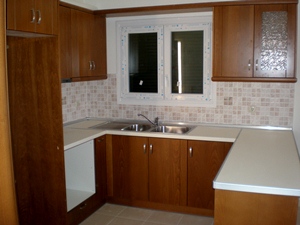 The Apartments all have two bedrooms, and are fitted out to a very high standard with fitted kitchens and fully tiled bathrooms, as well as double wardrobes in the bedrooms. They have high ceilings and a restful colour - scheme and top quality building materials to create a relaxing and comfortable interior. The apartments offer a paved plaza with parking space for each one and gardens in the back for the ground floor apartments.
Price : 110,000 Euros Reduced Very Good Value Code CORFU KM / 010
---
A Superb Plot Directly on the Sea : Prasoudi : South Corfu
A Unique piece of land beginning directly from the sea! The land is 10030 sq.m. and has a 25 meter beach line. The Plot has the possibility of building up to 200 sqm.
Price : 220,000 Euro's Code : CORFU TMK /PLOT/265
---
Nearest Beaches Paleokastritsa & Liapedes : Lakones : North Corfu
A Large property of 320 square metres.
A Unique piece of land for this plot gives a terrific view.
Price : 380,000 Euro's Code : CORFU TMK /135
---
A Hotel For Sale Or Lease : Sidari : Peroulades : Corfu
The Apartments are built according to the traditional architecture of Corfu in a Central yet quiet location and are located next to the sea near the village of Peroulades in the Canal d'Amour area known for its natural beauty. Close to the apartments you will find everything you need, there are shops, mini markets, tavernas, restaurants and bars. Guests have a choice between studios that can accommodate up to 3 persons, or apartments with one bedroom for up to 3 persons.
The apartments are ideal for families and couples seeking a quiet base for their summer vacation. All apartments and studios are spacious and fully equipped and feature a Kitchenette : Coffee Maker : Toaster : Fridge : Air Conditioning : and a Balcony or Veranda.
The Hotel & Apartments also feature : A Reception : Breakfast : Bar : Pool Bar : Satellite T.V. Wi Fi internet : Swimming Pool : Deck Chairs and Sun Umbrellas And a Garden. There is Maid Service : High Speed Internet Access : Internet Corner ( Free) : Billiards : and Aquatic sports at the nearby beach : BBQ.
A 5 year Lease is available with an annual rent : This highly profitable Hotel comes with all systems connected, a swimming pool bar and is fully furnished.
For Leasing Figures costs and details please E Mail me.

E Mail Brian.
Price : 4,000,000 Euros Slashed to 2.5 Mill For Quick Sale Code CORFU CK/010
---
BACK TO

HOME PAGE. CORFU

PAGE 2. CORFU

PAGE 3. PAXOS

.

E MAIL BRIAN.