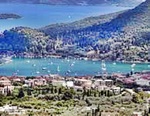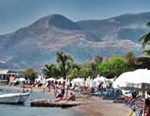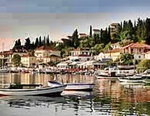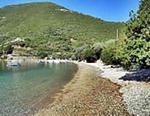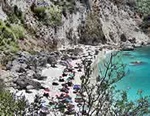 ---
Property For Sale In The Ionian Islands.
Kefalonia : Lefkas : Meganisi
Kefalonia

Here

Scroll Down To See More Property.

Patience Please For Photographs To Download. Then Its Easy and Quicker Next Visit
---
Lefkas and Meganisi : Ionian Islands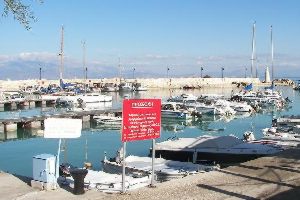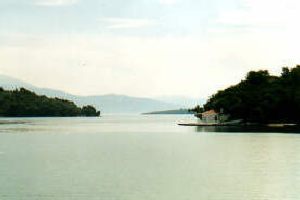 People love this place. Nidri, Vliho, Tranquil bay. Very Nice. Opposite is the Island of Meganisi.
Strongly traditional, Lefkas is an island where it is not necessary to get off the beaten track to taste the flavour of authentic Greek life.
To get there, you can now fly into Prevesa on the mainland, and from there by ferry, or across the causeway from the mainland.
Lefkada Island enjoys the advantage of being connected to mainland Greece by a swing bridge and being only 40 minutes by road to Preveza Airport. Preveza Airport caters for flights from all over Europe in the summer months and internal flights to and from Athens all year round. With good road connections to Athens and Thessaloniki, Lefkada is an ideal holiday destination for both European and of course Greek tourists. The beautiful beaches of Dessimi and Micros Gaillos are just 8mins away by car or bus, as is the centre of Nidri with plentiful shops, restaurants, cafes, tour boats etc. Ferries to other Ionian Islands like Ithaki and Kefalonia leave daily from Nidri.

---
A Beautiful Stone Villa For Sale With Pool & Views : Meganisi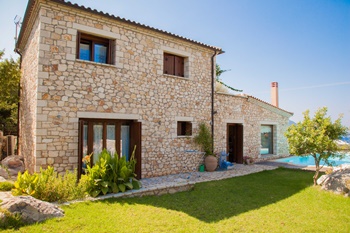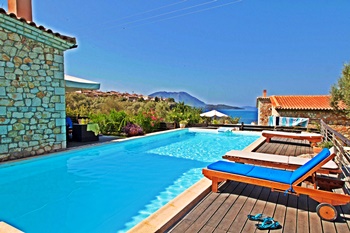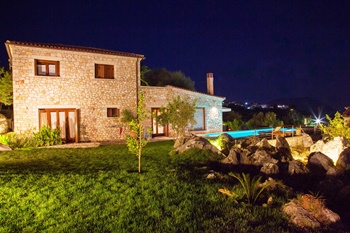 This beautiful 3 bedroom villa is of traditional stone construction and is situated on the lovely Island of Meganisi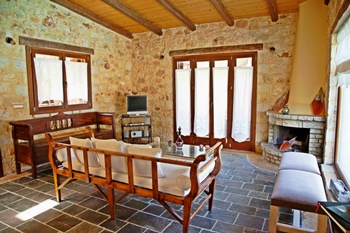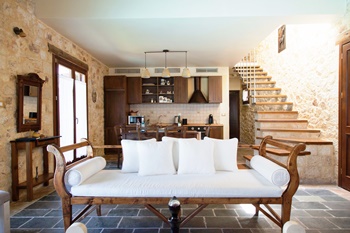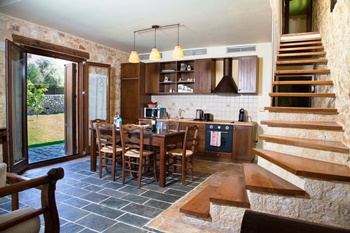 The villa has three bedrooms, 1 W.C, 1 bathroom and one en-suite bathroom in the master bedroom on the ground floor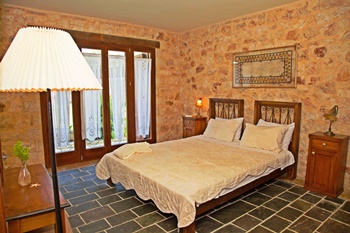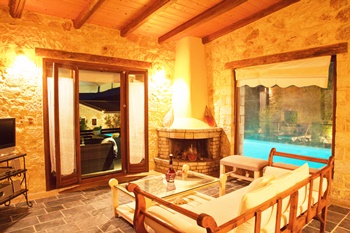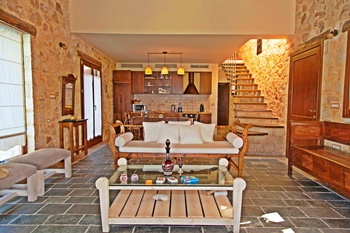 The villa has also a living room with a dining area and a fully equipped kitchen. The fireplace and all the furniture is included in the price and outside there is a private swimming pool of 40 square metres and a private garden of 700 square metres including the BBQ. The villa has lovely views of the sea and the surrounding Islands. Running costs are about 4000 Euros per annum.( Water / Electricity / Pool & Garden )
The offshore Islet of Megganisi is the largest of the Lefkas satellites and has a population of approx 15,000 in three villages, with good swimming and is served by four boats a day from Nidri.
Price : 320,000 Euros Code : MEGANISI KK/010
---
A Group of Luxury Apartments in the Best Location on Nidri Sea Front : Nidri : Lefkas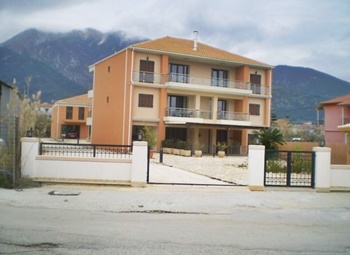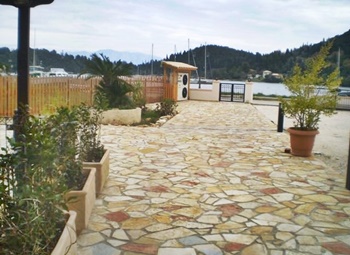 This newly built group of luxury apartments are directly on the sea front road at the quieter South side of Nidri village. They are only a few minutes walk from the very centre of Nidri. They are being offered at a very attractive price.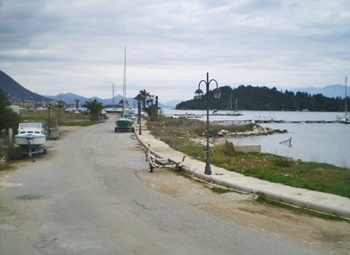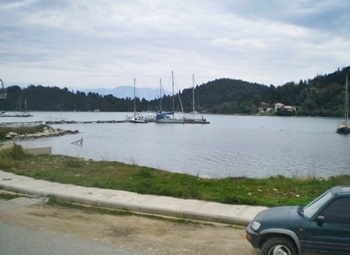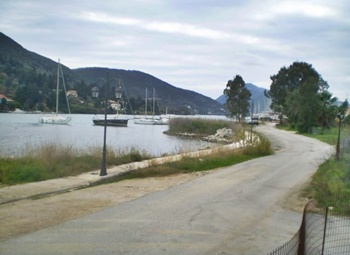 It is rare to find newly built luxury apartments on the sea front available in Nidri available at this bargain price.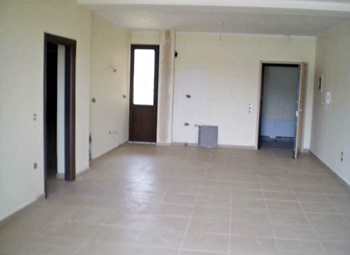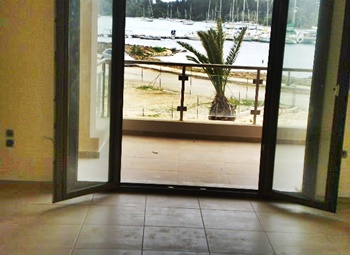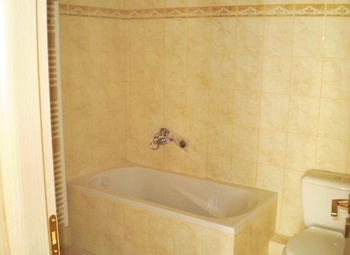 There are two buildings with apartments for sale as follows: Front Building (three floors): Ground floor – Sold 1st floor; 80m2 two bedrooms (with sea view) 1st floor; 60m2 two bedrooms (with mountain view) 2nd floor; 167m2 four bedrooms (with sea view) 2nd floor; 60m2 two bedrooms (with mountain view) Rear building (two floors) Ground floor; 55m2 two bedrooms Ground floor; 50m2 two bedrooms 1st floor; 117m2 three bedrooms 1st floor; 85m2 three bedrooms All buildings are new and have sea and mountain views and are in a quiet village location only a few minutes walk to the centre of the village. All apartments have been completed to a very high standard and include central heating and air conditioning : All the utilities are connected.
As well as a comfortable home or holiday apartment, these properties are an excellent investment.
We strongly recommend you make an appointment to view these apartments as soon as possible
Price : Front building apartments with sea view are 1800 Euros per m2 : All other apartments are 1650 Euros per m2 ( Transfer Tax : 16% )
Code : LEFKAS VP/2340
---
A Second Floor Apartment : Nidri : Lefkas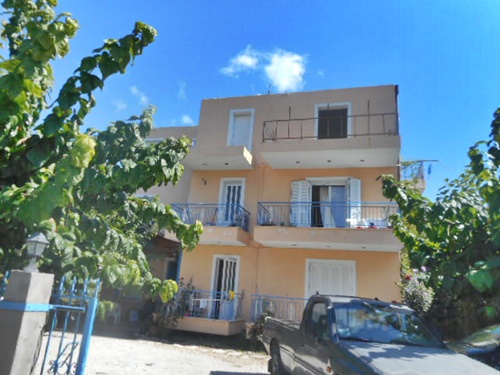 A very good opportunity for an apartment in a good location, only 200m distance from the beach, and 300m from Nidri central. It is situated in this,3 floor building, The location makes this apartment perfect for summer or all year habitation. Its condition is excellent with all facilities connected. It was built in 2008. It is 55 square metres and comes with very nice views.
Price : 45,000 Euros ( Transfer Tax 3,000 ) Code : LEFKAS VP/2896
---
A Two Bedroom House : Agios Petros : Lefkas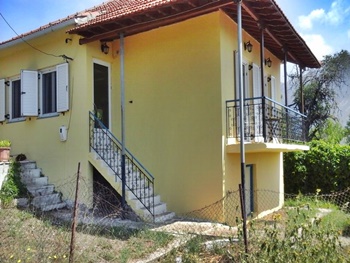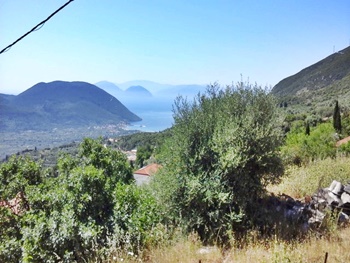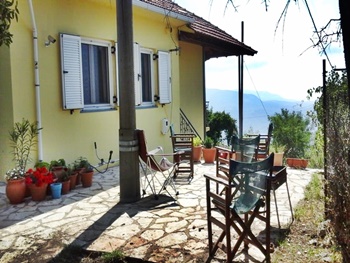 This House is situated in Agios Petros, just 5 kilometres from the famous beach of Pondi in Vasiliki.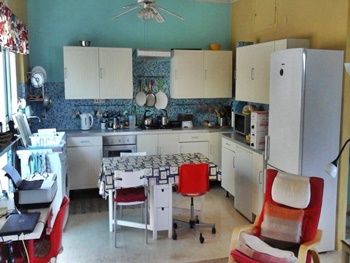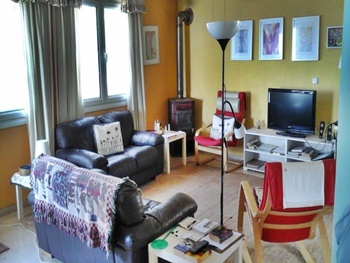 The house consists of 2 bedrooms, large open plan kitchen/dining/living room area, shower room, outside, stone paving patio, parking, the house is in quiet area, has easy access and beautiful views, plot size is 750.00 sq mts. Condition is very good and all facilities are connected. The house is single storey with a basement.
Price : 130,000 Euros ( Transfer Tax 8,000 ) Code : LEFKAS VP/3306
---
A Beach Front House For Sale : Nikiana : Lefkas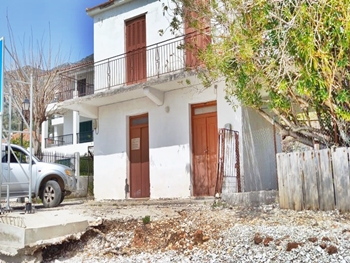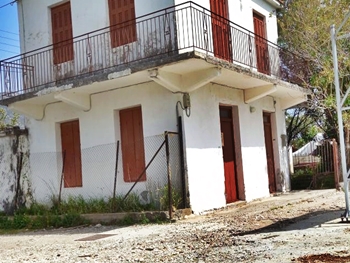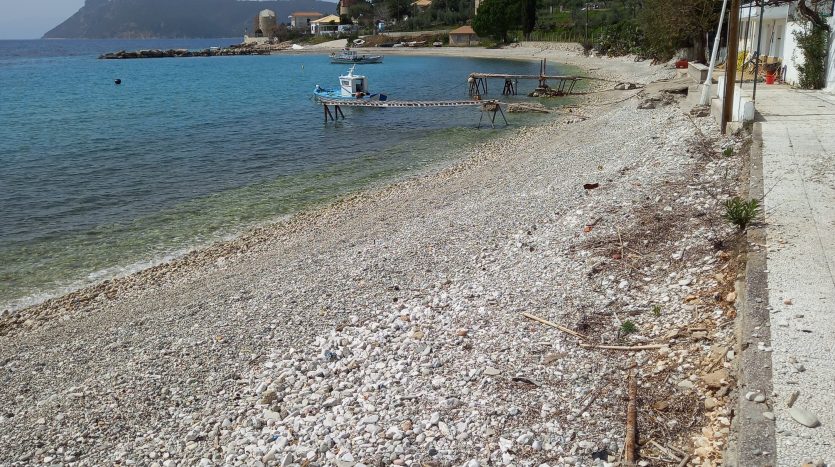 This beautiful 2 floor house is in a fantastic situation, situated on the south side of Nikiana village beside the beach.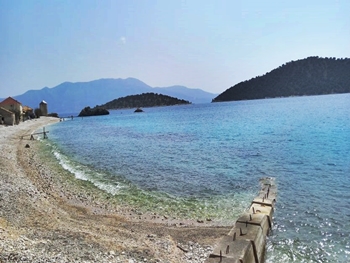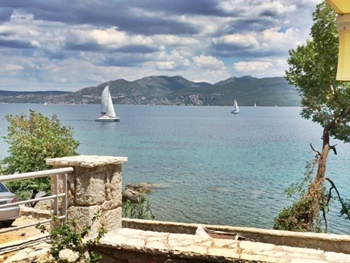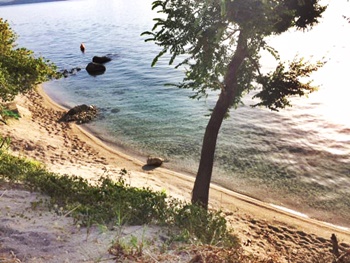 This is a 4 bedroom property ready to move into to be sold fully furnished.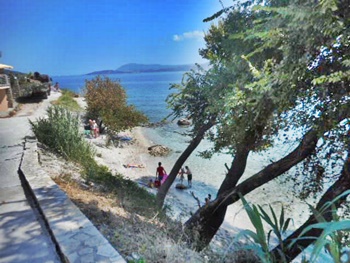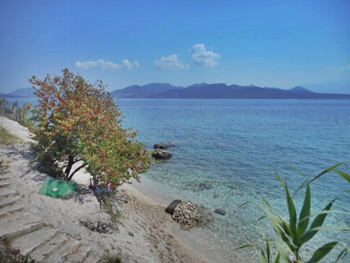 In front of the house there are steps leading down to the beach.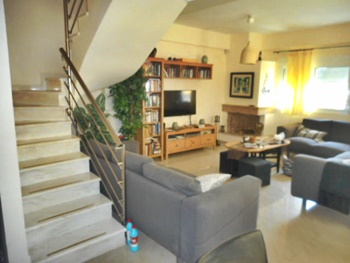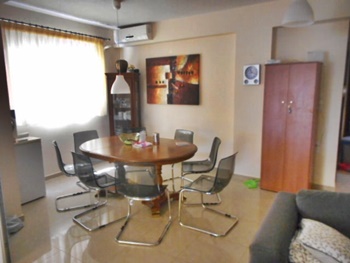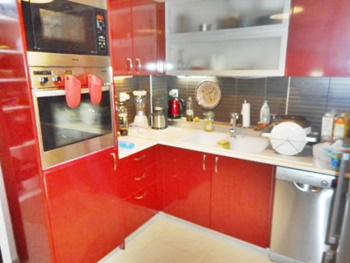 The first floor has 3 bedrooms, a bathroom and a big verandas.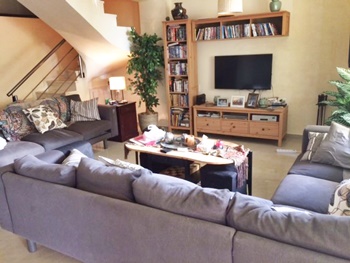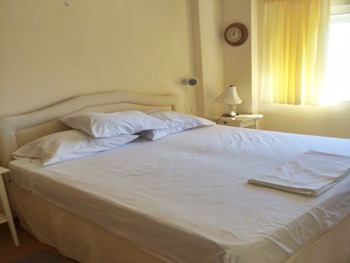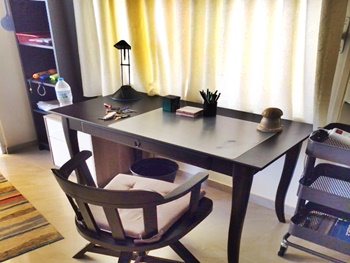 On the Ground floor there is 1 bedroom, a large living/dining room, a separate kitchen and a shower room. shower room.

Outside there is a large stone paved patio, and open garage for two cars. The house has a fireplace, is air conditioned, and is sold furnished, ready to move into.
One good opportunity for someone who wants to be near the beach, and moor his boat in front of his house! The condition of the building is excellent, it was built in 2012 All utilities are connected.
Price : 285,000 Euros ( Transfer Tax 15,000 Euros) Code : LEFKAS VP/3377
---
A Three Stone Villa Investment With Views To Vlicho Bay And Nidri : Lefkas
An investment and a tourist rental opportunity it is projected to realize a rental income of between 50,000 and 60,000 Euros per summer based on 2009 prices paid in this area by holiday companies contracting villas for the whole season.
ASPRODAKI VILLAS is an ideal investment opportunity. Consisting of 3 houses situated on over 5,000 square metres of land. The development has many mature olive and fruit trees and is surrounded by undeveloped farm land. The Villas are perfectly situated for holiday letting or long stay living, close enough to the busy bay side village of Nidri where there are numerous Bars, Restaurants and an active nightlife. Within easy reach of beautiful beaches with crystal clear waters. The Villas are situated near to a main bus route ( 200 Metres ) The development provides a peaceful rural setting adjacent to an un-spoilt traditional Greek village.
A Complete Description Word Document Is Available Please E Mail Brian.

E Mail Brian.
Price : Offers Invited in the region of 525,000 Euros Code : LEFKAS CS/010
---
One New Apartment & A Rooftop Studio, With Pool And Sea Views, Ready To Move Into : Nikiana

: Lefkas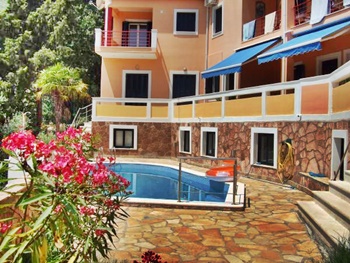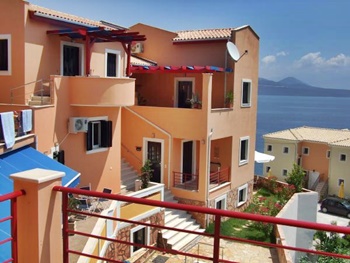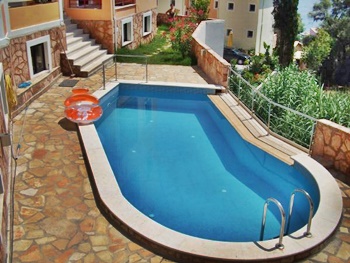 These new apartments are situated approximately 1km South of Nikiana, with beautiful views to the sea. They offer easy access to all parts of the Island.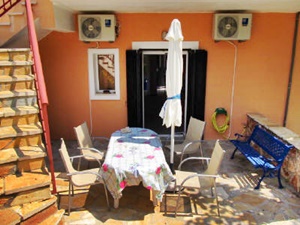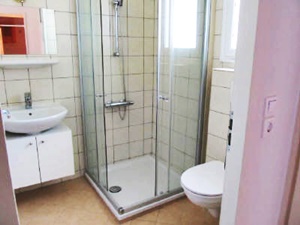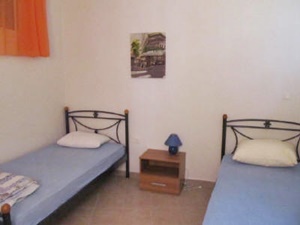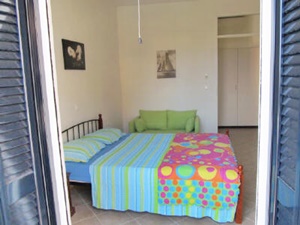 Nikiana is a pleasant fishing village and popular holiday destination, on the East coast of Lefkas and half way between Nidri and Lefkas Town.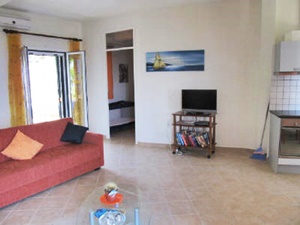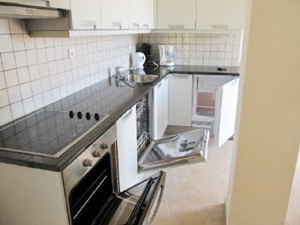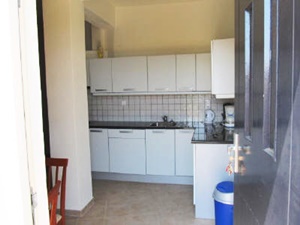 Apartment 4
Ideal for couples, families and friends, this large two bedroom apartment has an open plan living / dining room with a fully fitted kitchen. There is a fully fitted shower / wc with under floor heating. Beautiful views from the East and South facing balconies, and steps leading directly down to the pool. A private rear patio ideal for barbeques. This apartment includes a 19 m2 basement storage area which is fitted for a washing machine. The apartment is fully furnished and ready to move into. Includes air conditioning and heating system. 2 bedrooms : 77 sq mts Living space : 19sq mt storage room : 20 Sq Mt balcony :
Price : 110,000 Euros.
Studio 10
This beautiful penthouse studio occupies a spectacular rooftop location, with unbeatable 360 degree panoramic views across sea and mountains. The living room / bedroom has a fully fitted kitchenette. There is a fully fitted shower / wc with under floor heating. The studio also includes a small basement storage room with plumbing for a washing machine. The studio is extensively furnished (included in the price). The studio is surrounded by 60m2 of private patios and terraces – ideal for sunbathing! Includes air conditioning and heating. 31 sq mts of living space : 60 Sq Mts Balcony
Price : 95,000 Euros
Community Agreement: All owners will become members of the 'community' of ten apartments. Costs of common services such as gardens, lighting and the swimming pool will be shared by the community.
Price : 110,000 Euros & 95,000 Euros. Code : LEFKAS VP/1846
---
A Beautiful 3 Bedroom House with Pool and nice Mountain views : Nidri

: Lefkas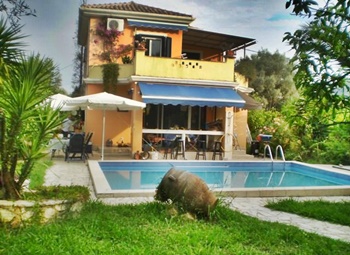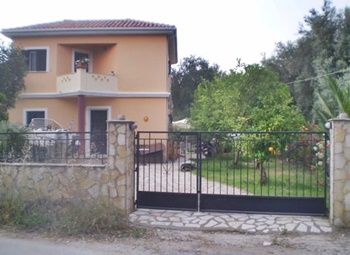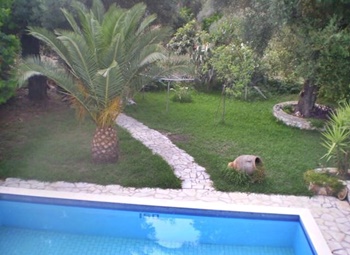 This house is on the flat area 500m above Nidri and is suitable as a summer home or for all year living.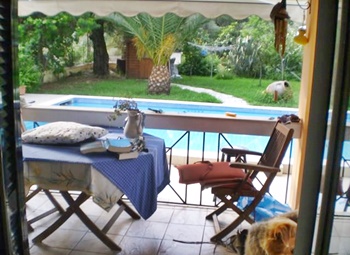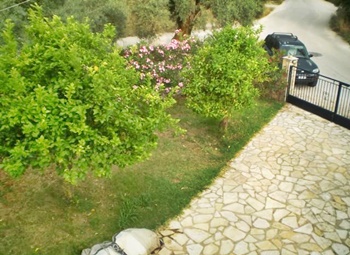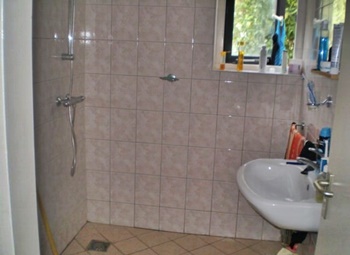 The ground floor of (60m2) has 1 bedroom, a shower room, open plan living-dining-kitchen area, and a staircase to the upper floor,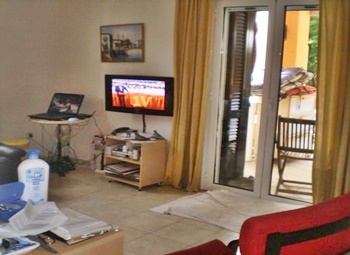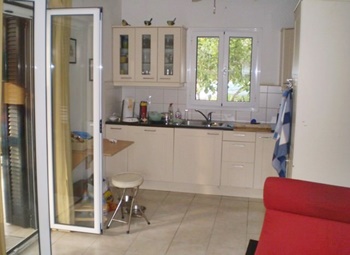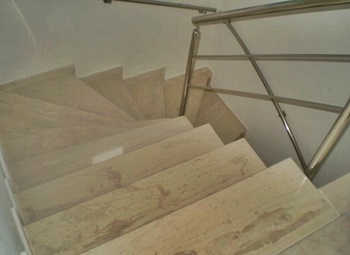 The first floor of (50m2) has 2 bedrooms, a shower room, a big terrace and outside there is a large patio and swimming pool of 750×450 and beautiful gardens, The house is air conditioned and has floor heating
Price : 215,000 Euros ( Transfer Tax : 12,000 Euros ) Code : LEFKAS VP/2327
---