---
---
BACK TO

HOME PAGE CONTACT

E Mail Brian
Property For Sale In The Cyclades Islands.
Island of Santorini : For Mykonos Click

Here

Scroll Down To See More Property.

---
Santorini : Cyclades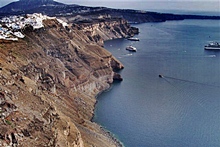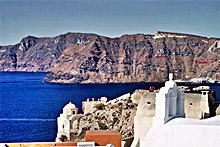 We have English speaking agents on Santorini who will show you the properties and see you through the buying process.
If you do not see anything to suit you we will do a search for you. Just ask.
Santorini has its own Airport and there are the usual Ferry routes from Piraeus.
Santorini is a very cosmopolitan Island with many nations represented on the Island

---
A Cave House and Old Mansion : Imerovigli : Santorini
A House needing some restoration is for sale with a fantastic view of the Caldera
The location is in "Imeroviglis Grandma" on a plot of 190 square metres with the building at over 120 square metres. It is not far from a parking area, all services are connected, but the house needs some redecoration.
Price : 1,010,000 Euro's Code : SANTORINI BD / 53 IMEROVIGLI
---
A Village Home With A Great Sea View : Exo Gonia : Pyrgos : Santorini
Located in the village of Exo Gonia and close to Pyrgos. It is only 5 Minutes to Kamari Beach and the airport.
The house has one bedroom, a living room, a small kitchen, a bath and W.C. and an extra outside W.C. The house has a big veranda, and a further building allowance of 40 sq mts.
Price : 224,500 Euro's Code : SANTORINI BD / H66
---
A Main House and Two Apartments : Location, Fira With Caldera View
This lovely main house is on a plot of 188 square metres, with the main building being 97 square metres and two apartments of 153 square metres.
There are two apartments with bedroom and bathroom , kitchen and living room with a veranda that looks out over the Caldera. There is also 1 big apartment with two bedrooms, baths, living room, and kitchen with three verandas in different levels all with the fantastic Caldera view.
It is not far from the parking area ( 3 min walk ) and all services are connected.
Price : Reduced to 816,000 Euro's Code : SANTORINI BD / 54
---
A Lovely Traditional Cave House : Oia : With Fantastic Caldera View
Located in the centre of Oia and only 5 to 7 minutes from parking, it is close to everywhere, but still in a quiet location and not too many steps.
The buildings consists of 2 chambers, one of which has just been renovated It has one bedroom, one bathroom with W.C. a kitchenette - lunch room, and a nice veranda outdoors.
Building area is a total of 85 square metres ( 40 for one chamber & 45 for the other chamber) All services are working O.K.
Price : 326,500 Euro's Code : SANTORINI BD / H67
---
A Recently Renovated Village Home : Messaria : Santorini
The house with 4 rooms has a kitchen, bathroom, bedroom, and a living room, and a small outside yard, there is easy access walking or bike. It is in a very quiet location.
Beautifully Renovated And At A Good Price
Price : 143,000 Euro's Code : SANTORINI BD / 41
---
A Recently Renovated Village Home : Kontochori : Santorini
Located right in the centre of the Island in the village of Kontochori ( The old part of Fira - the main town) It is 2 minutes from the centre, 10 mins to the airport and the bus station.
The house has two bedrooms, a big bath and a small bath, 2 W.C.s (Indoor & Outdoor), a living room, a kitchen, an office area, 2 small storage rooms, and heating has been installed. There are two very nice verandas with sea views.
Price : 306,000 Euro's Code : SANTORINI BD / H65H
---
Lovely Traditional Partly Cave Home In 2 Separate Buildings : Centre Of Megallochori : Santorini
This lovely traditional partly cave home is in two separate buildings, and is located in the centre of Megallochori, only 5 minutes from parking. It is 15 minutes from the airport, 10 minutes from the centre of of Fira and only 10 minutes from Perivolos Beach.
2 bedrooms, 2 bath/WC. Outdoor Shower, Kitchen / Lounge, Nice Yard and a small veranda with view of the village.
Only 5 min. from Parking : 15 min. from airport : 10 min. from the Center of Fira and 10 min. from Perivolos beach! Size Plot : 97m : Buildings : 60m : 2 Bedrooms, 2 : Bath/WC : Outdoor shower : Kitchen-lunchroom : Water-electric-sewage all o.k.
Nice yard and little veranda with view over the village
Price : 225,000 Euro's Code : SANTORINI BD / H56

---