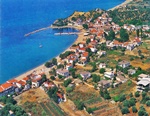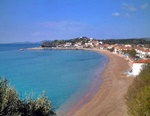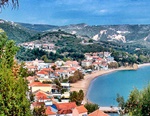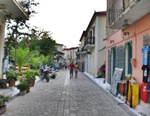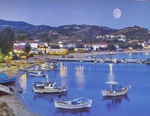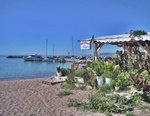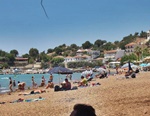 ---
South West Peleponnese
Finikounda : Methoni : Pylos : South West Coast : Page 1

Aegean Airlines have 3 daily each way flights From London Heathrow to Athens.

Easy Jet Fly Gatwick to Athens. Hire cars are available from Athens airport. In Summer there are Charter flights to Kalamata from Midlands airports.

Scroll Down To The Bottom To See All The Property.

---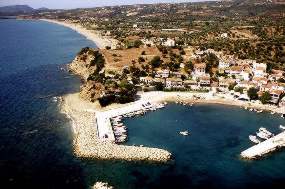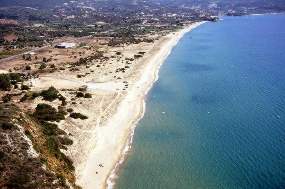 Brian's Web site has English speaking partners in this region now that can help you find your property. There is a good selection of property to chose from. The nearest Airport is at Kalamata receiving charter flights from U.K. airports in Summer.
Please chose from the list of properties below and remember we can help you in this region with all aspects of property, from plots & new build to renovation property and resale villas & houses.
E Mail me at the bottom of the page and tell me what you are looking for and your budget.

80 Square Metre Stone Homes Built To Order
Houses can be built to order on plots for sale : Buyers can design their own homes or work in with the Architect : To come and view plots and drawings, just E Mail Brian.
---
A House For Sale Overlooking Costa Navarino Golf Course : Tregana : Pylos : Messinia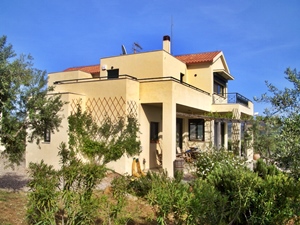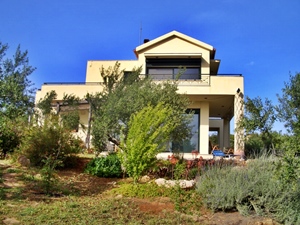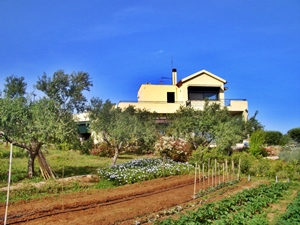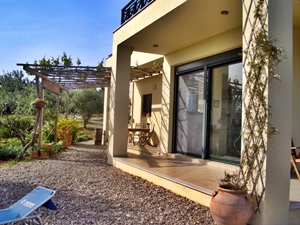 Uniquely situated two-storey house at the village of Tragana, near Pylos, Messinia. The house is built on the edge of a hill and affords boundless panoramic views towards the south, west and east, including the bay of Νavarino, the island of Sfaktiria and the island of Sapienza in the background, the lagoon of Gialova with Paliokastro, the well-known beach of Voidokilia and the beaches of Romanos to the west and the mountains of Lykodimo and Taygetos to the east. It is only 800 m. from the luxury hotel resort of Costa Navarino (www.costanavarino.com) and the golf course, of which it has a panoramic view.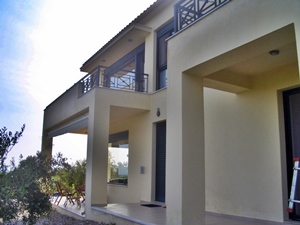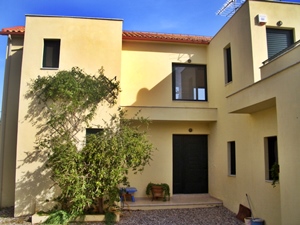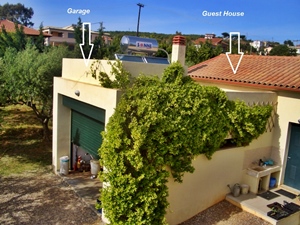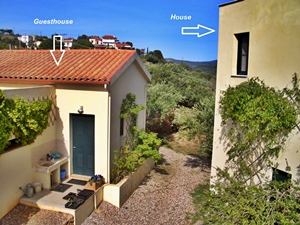 The house was built in 2004 on one of two plots (2.607 sq. m. each), which were purchased through separate deeds and comprise, a uniform area. The house has a total surface area of 220 sq. m. There is an en-suite guest room, garage, basement storage area and boiler-house all situated in a separate building next to the house. There are 4 bedrooms and 3 bathrooms.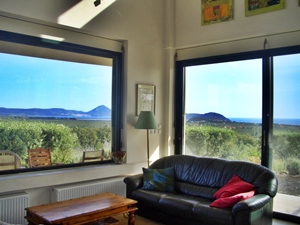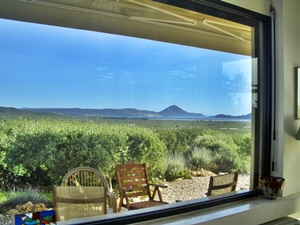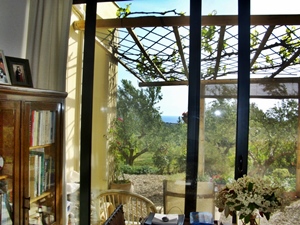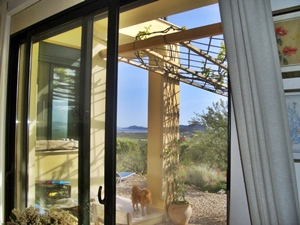 The house is equipped with central heating, air-conditioning, electric and solar water heaters, a fireplace, an alarm system, satellite and ADSL connection. It is situated inside a fenced organic olive grove, consisting of 110 olive trees and 10 fruit-bearing trees. Is surrounded by a mature garden, whereas the land's boundaries are delimited by cypress trees, climbers and large carob trees, wild olive trees, prickly pears, endemic shrub, etc, which form a natural hedge.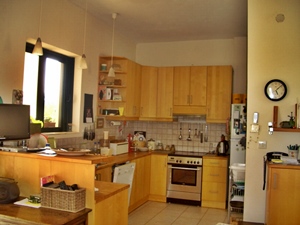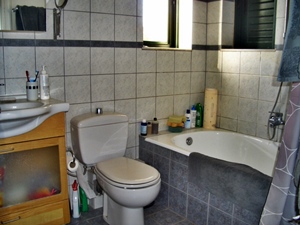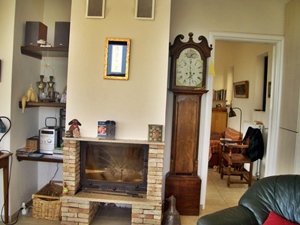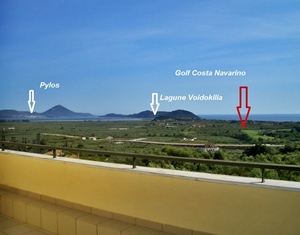 There is an automatic watering system installed, which is supplied by a 40 cu. m. tank, sufficient to cover the land's watering needs. There is the possibility to purchase also the other plot of 2.607 sq. m., where another 220 sq. m. can be built. Both plots are situated at the edge of the village but within its boundaries.

Price : 650,000 Euros Code : TRAGANA DG/105

---
A Beautiful Coastal Villa : Mati Beach : Gargalianoi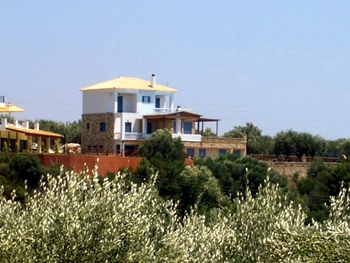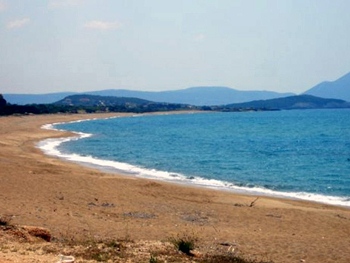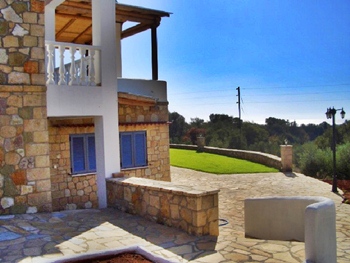 This real estate office has an interesting house for sale that is a two floored building of ground floor and first floor. At the ground floor there is a basement of 70 square meters as well as an apartment with two bedrooms, bathroom, living room, fireplace and kitchen. At the first floor there is a double roofed apartment that is connected internally with stairs. The house is 180 sq mts in area on a plot of 2,020 sq mts.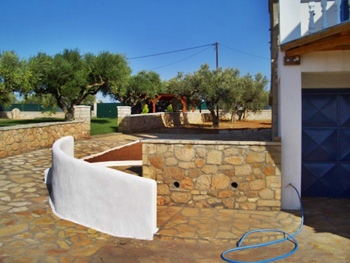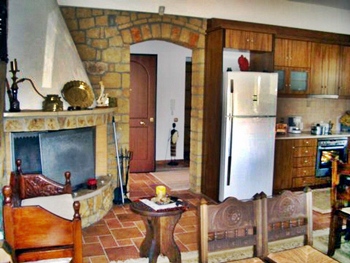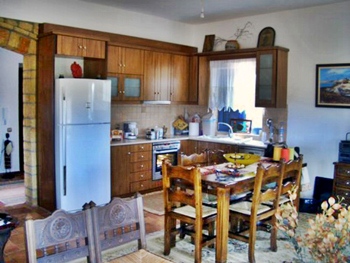 At the bottom part there is 1 bedroom, bathroom, living room, fireplace, kitchen and a big balcony from where you can enjoy the fantastic view towards the sea and the landscape. Climbing the stairs there are 2 bedrooms, and each one has its personal balcony and 1 bathroom. There is a total of 5 bathrooms and 3 toilets.
It is about 100m from the sand beach Mati and 1km from the golf course "Costa Navarino". You can reach the town of Gargalianoi by car in less than 10'.
Price : 399,000 O.N.O. Euros Code : GARGALIANOS DG/A101
---
An Old Traditional Stone House For Renovation : Velaki Nr Sulinari : Pylos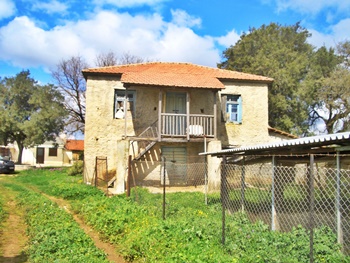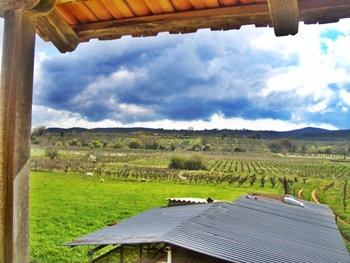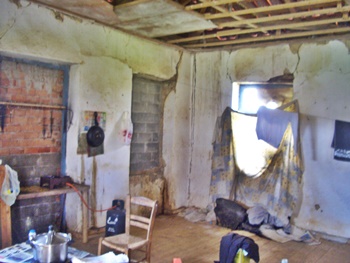 This is an old traditional stone house on two levels each of 75 square metres in the little village of Velaki near to Sulinari in a very calm place that needs renovation. It is in a plot of1800 square metres with a very nice view.
Price : 25,000 Euros Code : PYLOS DG/610
---
A Plot For Sale 300 Metres From The Sea : Petrohori : Pylos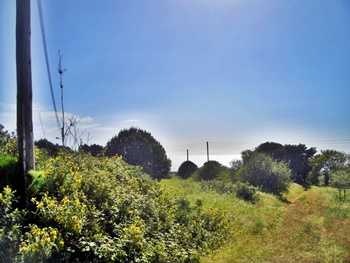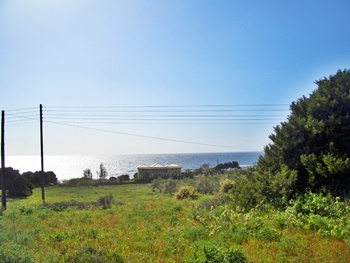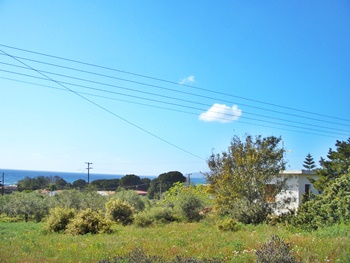 This plot of 850 square metres has an amazing sea view and is situated only 300 metres from the sea it is only possible but ideal for a caravan or a residentional container.
Price : 45,000 Euros Code : PYLOS DG/600
---
Four Houses West Coast Of Messinia 200 Metres To Mati Beach : Marathopolis : Pylos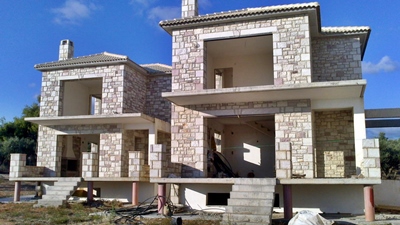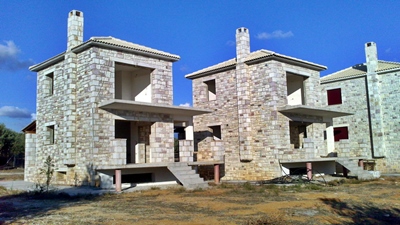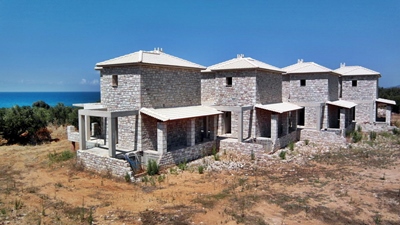 This complex of houses is located on the west coast of Messinia, In walking distance of 200m to the wonderful sandy beach Mati. The Luxury Golf Resort Costa Navarino is located at the other edge of the same beach.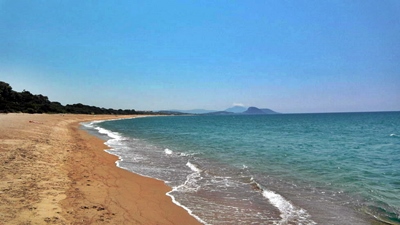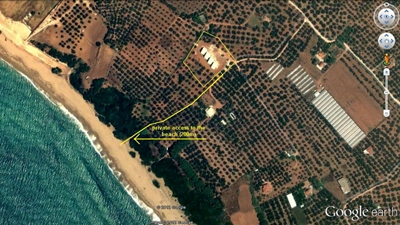 The access is very easy while it takes less than 10 minutes to drive to the resort or the village Marathopolis with its fish taverns and shops. The houses are newly built with natural stones in three levels. Each house is 91 mē in total. The upper floor is 28 mē consisting of a bedroom with en-suite bathroom and balcony with Stunning uninterrupted view to the Ionian Sea and the sunset. The ground floor is 28 mē consisting of an open plan kitchen with sitting area and balcony with nice view to the sea. The lower floor (basement) is 35 mē.
The houses No1 and No2 are sold. The houses No3 and No4 are not finished and available for sale. The house No3 is situated on a plot of 750 mē and the price is 210,000 Euros finished and ready to move in. The house N04 is situated on a plot of 950 mē and the price is 230,000 Euros finished and ready to move in. Paved terrace 40 mē at the yard (to the seaside) of the house and parking area (to the country side) are included in the price.
Prices : 210,000 Euros & 230,000 Euros Finished Code : PYLOS DD/205
---
A Renovation Project : Platanos : Pylos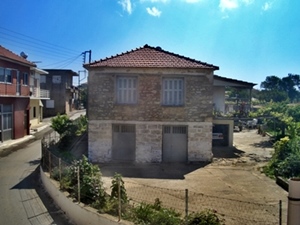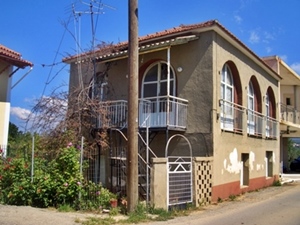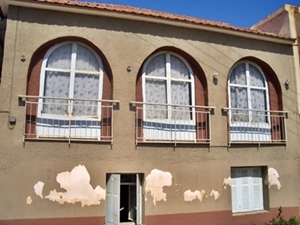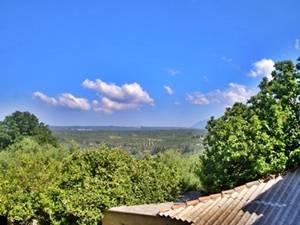 This is an old traditional village house for renovation with an area of 50 square metres and a garden of 40 square metres.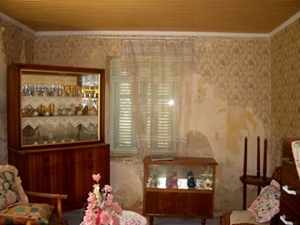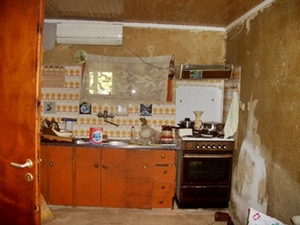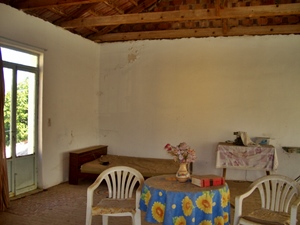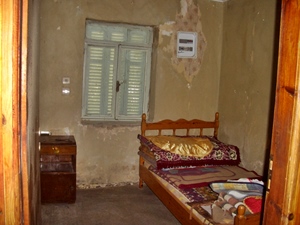 In need of complete redecoration and some rejuvenating. It has a sound roof and some equipment including cooker and air conditioning
Superb project for someone. Can be lived in whilst carrying out the work. Definite extra value can be added. Could be made into a very nice home.
Price : 85,000 Euros Code : PLATANOS DG/108
---
An 80 Square Metre Home In Perfect Condition : Evagalismos : Methonis : Messinia
This beautiful little house is on offer! It is at Evaggelismo : Messinias, a traditional and quiet village, 6km from Finikounta.
There is a bedroom, living room, kitchen, bathroom and garage. It is 4km away from Finikounta and its distance to the beach is 2km.
Price : 56,000 Euros Very Good Price Code : EVAGELISMOS DG/140
---
Old Traditional House : Papoulia : Messinia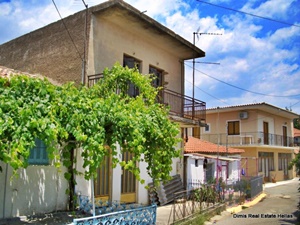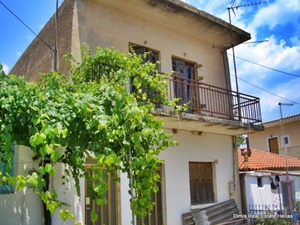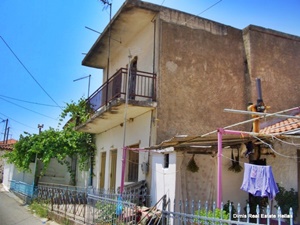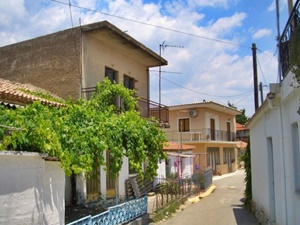 This is an old traditional house for sale in Papoulia a village in Pylos Messinia , Peloponnesus The village is at an altitude of 288 metres. Locations near Papoulia include the village of Glyfada and Platanos. The house is 112sq mts in area and was built in 1778. It has 2 bedrooms and a bathroom.
Price : 55,000 Euros Code : PAPOULIA DG/333 NEW
---
A Renovation House Inside Pylos : Pylos Town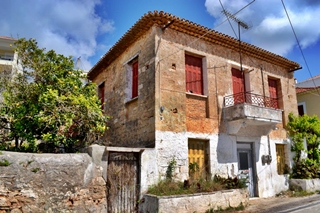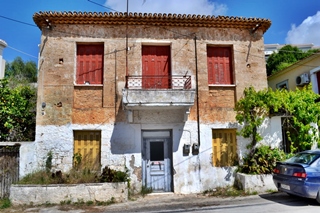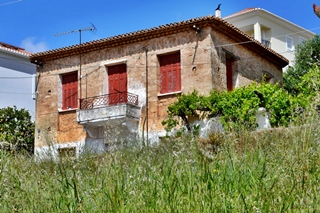 Traditional house that needs renovation, inside Pylos, within walking distance to the square of the town and the sea.
This traditional and natural stone made house is located inside the charming and picturesque town of Pylos where very few properties are available for sale. The plot measures 225 mē while the house is 150 mē in two levels. It was built in 1945, it is connected to water and electricity supply and needs to be fully renovated. An old stone wall provides privacy to the yard of the house that could be converted into a "hidden place" of relaxation. The balcony of the upper has view to the sea. The access is very easy while the distance to the beautiful square of the town is 450 m. It takes less than 10 minutes to drive to the nearest golf course and approximately 45 minutes to the airport of Kalamata. The town of Pylos provides most of the necessary services like Medical Centre and pharmacies, banks, super markets, cafeterias, restaurants etc.
Price : 149,000 Euros Reduced To 129,000 Euros Code : PYLOS DD/334

---
A Detached 3 Bedroom House For Sale : Finiki : Messinia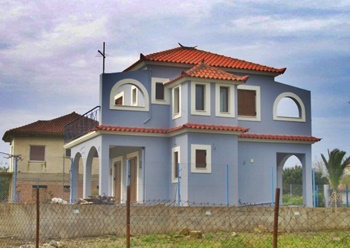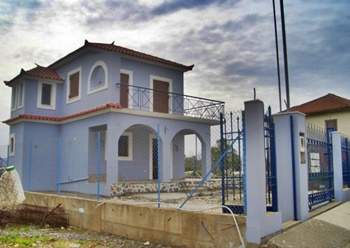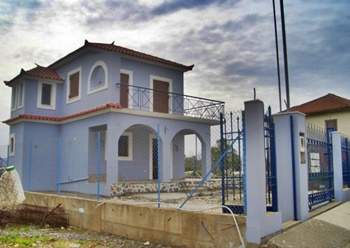 This is a new house recently built in 2002- 2009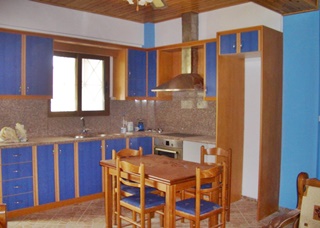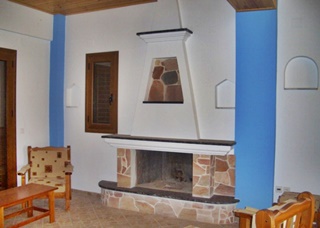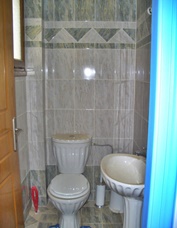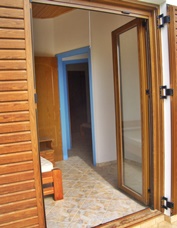 In the south of Peloponnesus in Messinia in the village Finiki this Blue House is located for sale : It is a detached house built in 2 levels with internal staircase, a ground floor of 43m2, an open kitchen, dining room, living room, with an open fire place, WC. On the first floor of 43 m2, are 3 bedrooms, a WC, shower room, and a lovely balcony with a panorama view. The house sits in a plot of 500 m2 : Installation exists for heater and radiator :
There is a plot for sale next to the house 500 m2 price 35 000,00 euros
Price : 150,000 Euros Code : FINIKI DG/BLUE NEW
---
A Detached House With Sea View : Gialova : Pylos : Messinia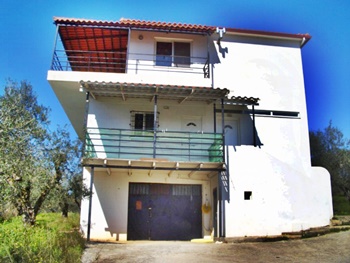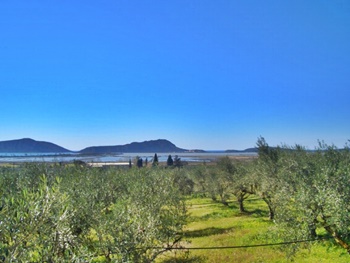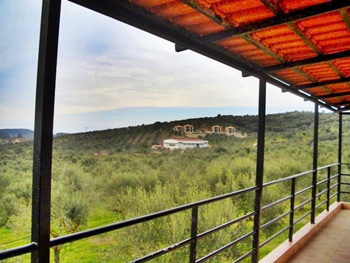 This is a detached house in Gialova in a 5000 sqm plot of Olive trees built in 3 levels, with basement, a 1st. & 2nd. floor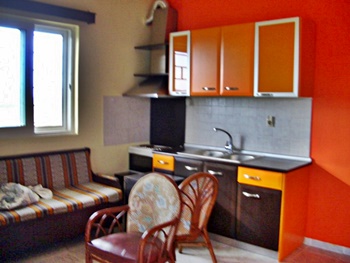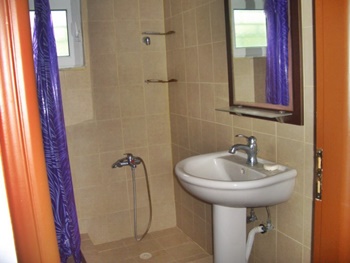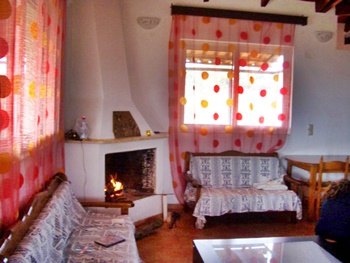 The house is 200 sq mts in area. The basement at the moment is used as a storeroom : The First floor has 3 rooms, a bathroom, kitchen and balcony with sea view : The second floor has a bedroom, open fire place. open kitchen and a living room with a big balcony with an amazing sea view.
Price : 240,000 Euros Code : GIALOVA DG/201 NEW
---
A Residence In Gialova With A Panoramic View : Gialova : Messinia
A Two storey residence, covering an area of 125 mē in total, capable of accommodating a family of four adults. It includes a kitchen, dining room, living room and a small W.C. on the ground floor, and two bedrooms and a bathroom on the first floor. Placed on the hillside of Gialova inside a 500 mē plot, facing west, enjoying a full view of Navarino bay, only 300m from Gialova beach. Planned to be constructed using reinforced concrete and native soft limestone, and designed to combine modern trends and traditional Greek architecture at the same time.
Price : 300,000 Euros Code : GIALOVA DG/700 NEW
---
A Four Bedroom House For Sale : Akritohori : Finikounda : Messinia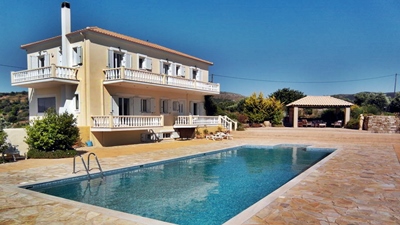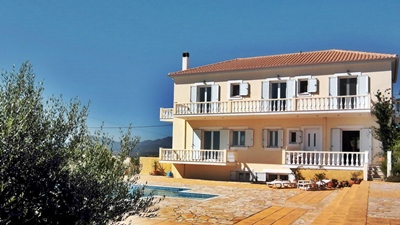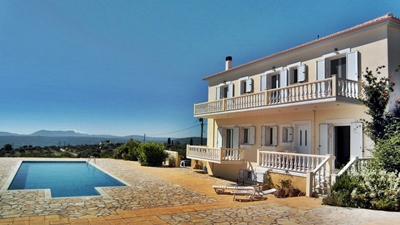 This substantial four bedroom property, in grounds of approximately 3500 square metres, with swimming pool, commanding 360' views of sea, islands and countryside is positioned above the village of Akritohori near Finikounda. Constructed in 2003, on three levels, each of 98 square metres the house has generous proportions.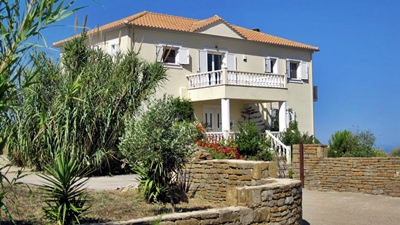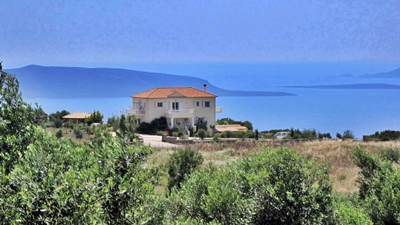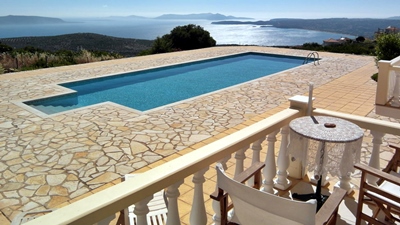 The basement comprises a workshop, garage, pump-room and utility area. The ground floor has a large sitting room with open fire/wood burner, kitchen with dining area, study and toilet all served by a spacious hallway.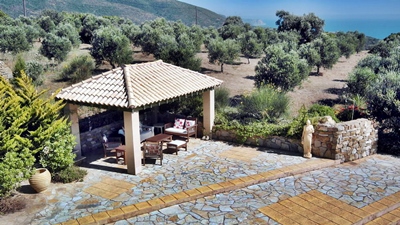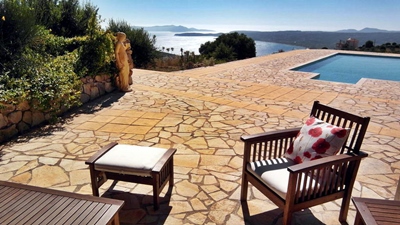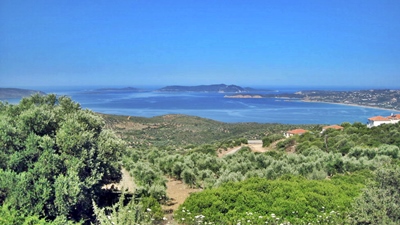 On the first floor there are four bedrooms, leading from a galleried landing, each with en-suite facilities and access to one or more balconies. The house has oil-fired central heating throughout. There is a wood-store attached to the house and an outside toilet. The salt-water (by electrolysis) swimming pool is 15 metres long. The garden surrounds the property and has well-established plants and trees, with grass areas, paths and concrete driveway. A pergola provides a useful outdoor shelter for relaxing in the mid-day sun. Price 450,000 Euros

An elevated plot of 5.759 mē is situated next to the property. It comes with full building permission and plans for two single storey 2/3 bed houses of 100 mē each, which would not obscure the views from the Villa or vice versa. Like the Villa, the plot enjoys stunning 360° uninterrupted views of the countryside, the sea and the islands. These small houses would offer a development and resale opportunity or rental potential. Otherwise the plot remains a productive olive grove. It is available for sale with the Villa at a sum of 80.000 Euros.
Prices : 450,000 Euros & 80,000 Euros Code : FINIKOUNDA DD / 6914 SOLD
---
48 Stremma of Development Land : Methoni & Finikounda : Messinia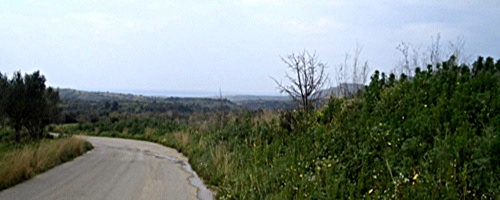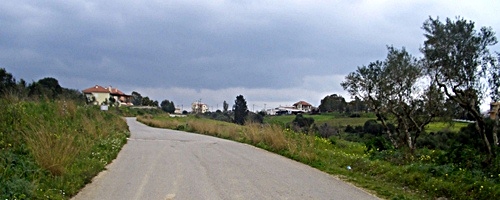 48 Stremma of building land for sale. Can be cut into 9 pieces for development. The land lies in between Methoni and Finikounda and has a nice sea view
Price : 500,000 Euros Code : EVAGELISMOS DG/500
---
A Hotel For Sale In Methoni : Methoni : Peleponese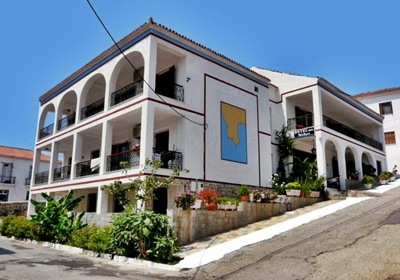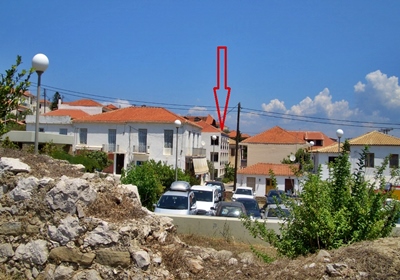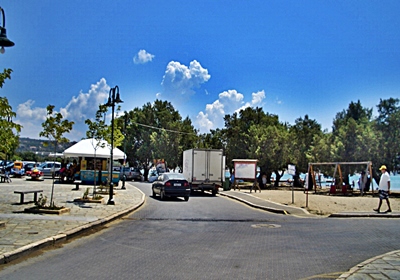 Built in 1992 and kept up to standard this functioning hotel has 8 double rooms each one of 40 square metres with terraces.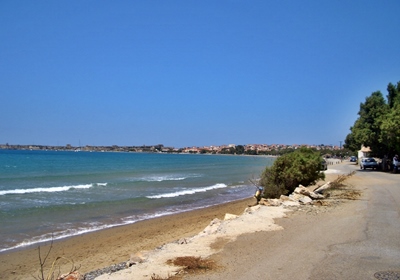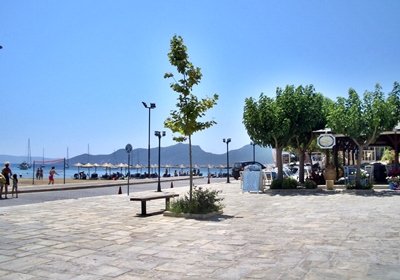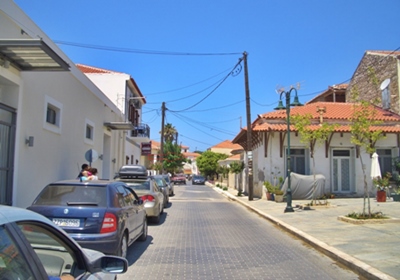 There is air conditioning in every room. The reception area is approx 100 square metres, and the distance to the sea is 100 metres, and the distance to Methoni castle is 110 square metres.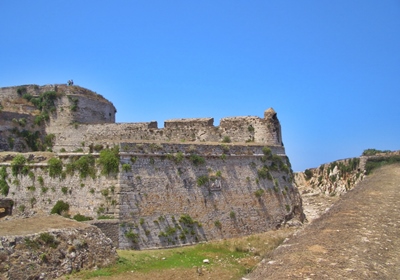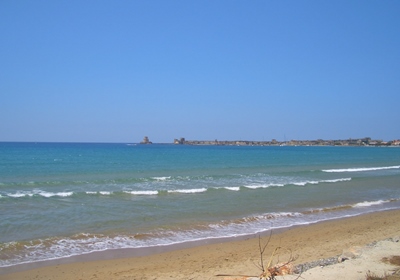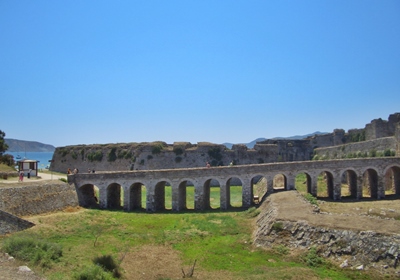 There is the possibility to buy a plot next door to use as parking.
Price : 350,000 Euros Code : METHONI HOT/DG35

---
Kalamata House For Completion Near To The Marina : Kalamata : Messinia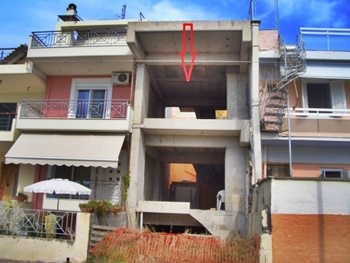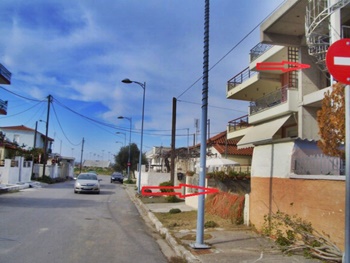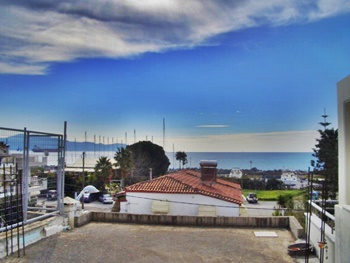 This is a house close to the Marina in Kalamata. It is only 120 metres to the sea. The main construction is finished, but it requires finishing off to your liking. The floor plan is finished, and it is built on three floors with a basement, a first floor, and a second floor with a roof terrace overlooking the marina and the sea. In the front is a 12 square metre garden.
Price : 168,000 Euros OR OFFERS INVITED Code : KALAMATA DG/777 NEW
---